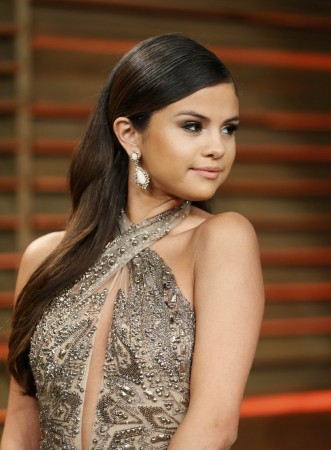 Selena Gomez is not falling for Justin Bieber's tactics. Recently, the 20-year-old "Baby" hitmaker posted a pic of Selena Gomez from Vanity Fair pre-Oscar bash on her Instagram account and titled it as "The Most Elegant" princess. Since then it has been speculated that Gomez will once again be lured by her ex-boyfriend. However, that is not the case.
A source close to the "Come And Get It" singer has revealed that Gomez mocked Bieber's so-called sweet act and she is no mood to go back to the singer.
"Selena isn't falling for Justin's old tricks anymore. She's exercising her rehab knowledge and slamming the door shut on any future relationship. The insider added she 'laughed out loud when she saw it, saying it was stupid and childish," an insider revealed as reported by TMZ.
Gomez has had a lot of emotional troubles since last year, after which she even enrolled herself in a rehab. The "Come and Get It" singer spent two weeks in a rehabilitation center in Arizona according to her reps.
During the Vanity Fair bash Gomez was seen spending most of her time with BFF Vanessa Hudgens.
The 21-year-old singer indeed looked elegant and it was not a surprise that Bieber couldn't hold himself from praising her. However, the reunion of the couple is highly unlikely especially after all the issues that propped up earlier this January, when Bieber got allegedly involved with model Chantel Jefferies.
Moreover, in January issue of "The Seventeen" magazine, Gomez called her split with Bieber "ugly" and how she has always been low on confidence, reported The Daily Mail.
"This year is when I really started feeling powerful. I had always been the underdog secretly. I was on Disney when it was Miley [Cyrus], the Jonas Brothers, and Demi [Lovato]. I questioned the way I looked, acted, sang, and wrote," she revealed.