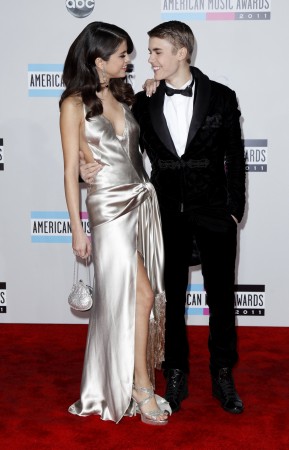 Selena Gomez is reportedly trying to leave her past behind. The 22-year-old is rumoured to be taking steps to move on from her on-and-off boyfriend Justin Bieber and in her wake to start a new life (sans Bieber), she is taking help of her family and friends.
"(The singer) trying to put him [Justin] behind her. It's hard because they have just so much history. It is a process," said a source to Eonline. Gomez is also making frequent trips to church to keep a positive mindset. On 7 December, she was seen attending the services at Hillsong Church in Los Angeles, according to Inquisitr.
Gomez and Bieber have been in an on-and-off relationship since calling it quits in 2012. The couple have reportedly tried mending their differences and getting along, but in vain, according to the reports. In the current scenario, if Gomez gets a text from Bieber, she reportedly gets upset.
Furthermore, during Taylor Swift's 25th birthday celebration, Gomez threw a fit over Bieber. "She shouted, 'No one understands me! My boyfriend doesn't even understand me," a source revealed to US Weekly. The guests at the party were shocked to see Gomez in a wrecked state, as further reported by the website.
Meanwhile, Gomez may be trying to move on from the "Baby" hitmaker, but she maintains that she cares about him. She said in her interview during Ryan Seacrest's KIIS FM radio show that she will always support Bieber. "I'm upset when he's upset, I'm happy when he's happy. I don't want anything to ever happen to him bad. It hurts me. That's all," she said.
In other news, it is being said that Gomez is getting ready to release some new music in summer. Her new album will sweep her fans off the floor as it is going have "completely new sound and a new vibe," according to Hollywoodlife. Gomez's last album was "Star Dance."