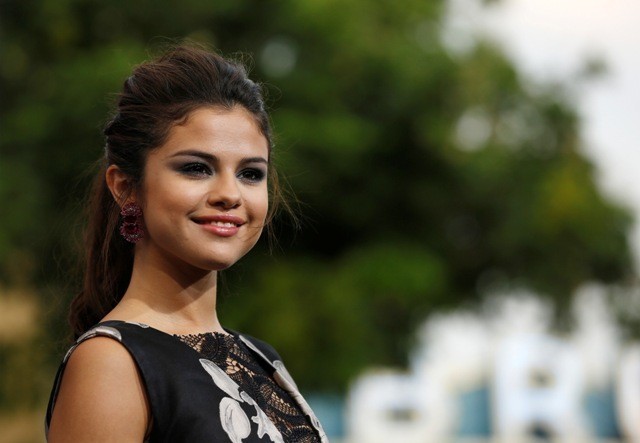 Selena Gomez is rumored to be hooking up with Orlando Bloom. The 37-year-old actor and 21-year-old singer were reportedly seen getting cozy during Chelsea Handler's Uganda Be Kidding Me live show at The Forum in Los Angeles.
Apparently, the two arrived in the same car and even left together.
"Selena actually looked really happy," a source told HollywoodLife.com, adding: "They both seemed in great spirits."
The two were snapped sitting outside the show. Gomez was dressed in a black ensemble, while Bloom was in a blue coat and black jeans with a cigarette hanging out of his mouth.
They were reportedly taken aback when shutterbugs caught them and immediately walked away in opposite directions.
Gomez and Bloom stepping out together has come as a bit of a shock as much recently the " Come & Get It" singer was seen cozying up to on and off boyfriend Justin Bieber at Coachella music festival.
Reportedly, just before Bieber's performance at the festival, they walked hand in hand through an all access and made sure that no one noticed them.
"Justin took the lead and was escorting Selena through the all-access area, they were dancing slow right next to each other, swaying around," and although they "didn't kiss" the pair "were whispering to each other, laughing, [and] standing close together ... surrounded by four bodyguards backstage, " US magazine quoted a source.
Moreover, what makes this alleged alliance bizarre is the fact hat Bloom's ex wife Miranda Kerr was rumored to be dating Bieber in 2012. The two had sparked dating rumors after they met at 2012 Victoria Secret Fashion Show. This was considered to a major reason behind Bloom and Kerr's split.
So does that mean Bloom and Gomez are taking revenge? Currently, Bloom is involved in a friendly divorce battle with Kerr and Gomez is rumored to be in a relationship with Bieber.
[ED:VS]