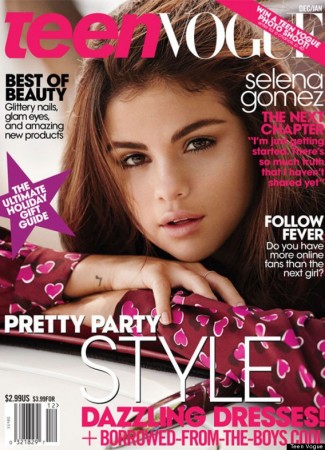 Selena Gomez looks sexy on the cover of Teen Vogue's December issue. She tells the magazine that though she is currently single, she's not looking to find her next boyfriend in a hurry.
Gomez's high profile romantic relationship with Justin Bieber came to an end earlier this year. The young singer-turned-actress has been focusing on herself and her work ever since and it seems like she's finally come to terms with the break-up. The young songstress looked stunning on Teen Vogue. She told the magazine that she was very "broken up" when her young romance with the "Baby" singer came to an end.
"You fall in love and it completely consumes you," Gomez tells the magazine. "So a part of you is broken when that's gone. And part of you wants to have that rebellious feeling where you're just like, forget it - I can do anything I want."
Over the last few months, Gomez has tried portraying a 'girl-gone-bad' attitude but it has not worked for her. She said that no matter how much she strays from her original image, she will always remain a 'good girl'.
"I've tried it, and I've never been that girl," Gomez continued. "I'm always going to be the girl you want to take home to your parents, not for the night."
She went on to talk about her love life. The 21-year-old has been single for the better part of 2013 but revealed she is not in a hurry to find her next boyfriend. Currently she is more into meeting new people and exploring her options.
"I like to say I have a good sense of judgment, but I know that not everybody does," she explained to Teen Vogue. "The older I've gotten, the more I've learned that I have to open myself up to all opportunities. Maybe I'll get burned and not meet the right people, but I won't know until I do it."