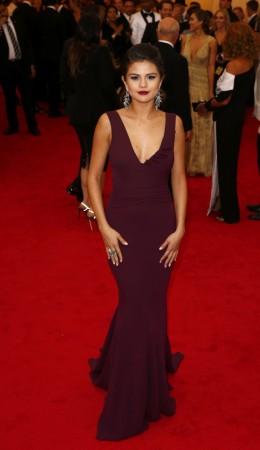 Selena Gomez tried to hide from onlookers as she walked out of the Los Angeles Airport with Orlando Bloom on 20 October but couldn't. The singer, who was casually dressed, tried to conceal her face by looking down while Bloom went incognito in a giant hat.
May be the duo happened to travel in the same flight but they created suspicion by trying to hide from the media, sparking off rumours if they are seeing each, according to Hollywoodlife, which has published a photo of the two just a couple of steps apart.
It was not the first time the 21-year-old singer was spotted with the "Pirates of Caribbean" star. On 26 April, the two attended the Chelsea Handler's stand-up comedy show at the Forum in Los Angeles, as reported by the Website.
That time it was revealed that Gomez' friends wanted her to date Bloom.
"Her friends are pushing her to start dating. She really needs to get Justin out of her system, that's why she's been hanging out with Orlando. She wants to make Justin hurt as much as he hurt her. Plus, she thinks Orlando is super hot, she's always had a crush on him," a source claimed.
It may be mentioned that Gomez has been in "on again off again" relationship with Justin Bieber, and reports claimed that they have parted ways again. However, it is still not sure if she has started dating Bloom after the break up with the "Baby" singer.
Interestingly, Bloom and Bieber are not in good terms. The former reportedly threw a punch on the latter at Cipriani restaurant in Ibiza, Spain in July after the "Baby" singer's flirted the actor's ex wife Miranda Kerr.
Bloom was previously married to Miranda Kerr before calling it quits a few months ago. The reason for their divorce is not known but Kerr had said in one of her interviews that Bloom would always stay a "family" to her and being positive is the key to happiness.
"But I've realized it's important to sit with it and let it pass, and if it doesn't pass, choose a thought that will help it pass. Focus on what it is that you're grateful for. Having perspective is key," Kerr said about her divorce to The Edit magazine, according to Daily Telegraph.
Meanwhile, Gomez's spokesperson is yet to confirm the link-up rumours with Bloom. The singer, who moved out of her parents house recently, is busy with her career and is planning to lead an independent life in her new house.