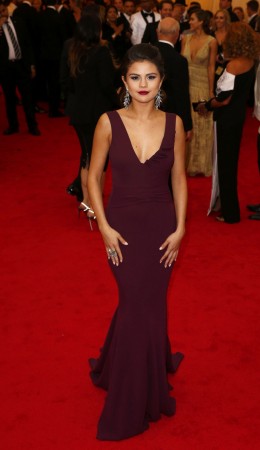 Pop singer Selena Gomez met with a minor accident on Sunday slightly damaging her SUV and she has blamed paparazzi for distracting her.
The 22-year-old "Come & Get It" singer was pulling out of a 7/11 parking lot when she backed into another vehicle and caused minor damage to her car, reported TMZ. It went on to say that Gomez informed the driver of the other car of the incident and no police complaint has been filed, indicating that she might not be booked.
Gomez took to twitter to express her dismay on paparazzi for the accident.
Only I'd get into an accident because of men with cameras who have great careers and offer the couple a package at Burke Williams. Oh LA.

— Selena Gomez (@selenagomez) August 3, 2014
Interestingly, the accident happened a day after Gomez's ex boyfriend Justin Bieber, 20, posted a picture of him getting cozy with Kendall Jenner, 18, at Riccardo Tisci's birthday bash. He also reportedly made out with Playboy model, Alyssa Arce before reuniting with Jenner in Ibiza.
Selena Gomez was also spotted hitting the famous Abbey bar in West Hollywood, California for a late night outing the day before the accident happened. She was seen wearing cleavage-revealing top and curve-hugging jeans, hinting that she has moved on after her "on-again, off again" relationship with Bieber.
Gomez was earlier dragged into Bieber-Orlando Bloom fight with some reports suggesting that they fought over her, while others say it was due to "baby" singer's closeness with Bloom's ex wife Miranda Kerr.
It is reported that Gomez had secretly texted Orlando after his fight with Bieber.
"She actually reached out to Orlando and text him how sorry she was for Justin's behavior," a source told Hollywood Life. "Orlando has been nothing but supportive of Selena and actually a very good friend. Selena confided in him how upset she was over Justin and his wandering eye and his inability to commit."
Orlando responded positively, telling Gomez to take care of her life.
"Orlando advised her to let go and take care of herself first. Love herself first. He shared his own heart aches with her and has been a major source of inspiration," said the source. "In Orlando's Buddhist practice, there is a saying about turning poison into medicine and this is what he shared with Selena. To take something negative and turn it into something positive, and that's pretty much what Selena has been doing."