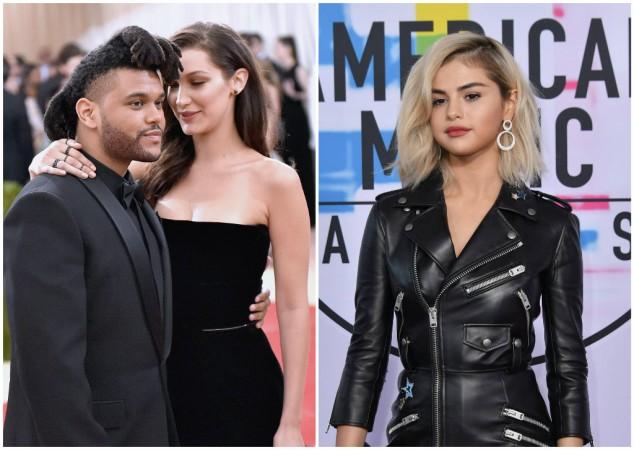 Canadian singer/songwriter The Weeknd has no plans to celebrate former girlfriend Selena Gomez's upcoming birthday. The former Disney star turns 26 on 22 July.
According to a report in Hollywood Life, the 28-year-old Canadian musician has no plans to reconnect with Gomez, as he is back with American model Bella Hadid. A source told the website, "Abel will not be sending Selena flowers this weekend for her birthday, nor will he send her a happy birthday text or anything like that."
Things are going well again, finally, for Abel and Bella and he does not want to jeopardize her trust by sending his ex anything that could be seen as inappropriate or disrespectful to Bella.
Gomez and The Weeknd started dating in January last year and made their red carpet debut at the 2017 Met Gala held at the Metropolitan Museum of Art in New York City. The Starboy hitmaker kissed on her cheeks while on the red carpet.
However, the couple split in October 2017 after nearly 10 months of dating. While The Weeknd and Gomez never publicly addressed the reason for their separation, many insider reports stated that long distance played a factor.
Abel and Selena have not spoken in a while and he will keep it that way, even on her birthday. He is happy with Bella and pretty much over Selena. So while Abel wishes Selena well, he has no desire to maintain a relationship or send her any surprise gifts for her birthday this year.
In November 2017, during an interview with Billboard magazine, Gomez talked about her split with The Weeknd. She said: "Something that I'm really proud of is that there's such a true friendship [between us]."
"I truly have never experienced anything like that in my life. We ended it as best friends, and it was genuinely about encouraging and caring [for each other], and that was pretty remarkable for me," she added.
https://data1.ibtimes.co.in/en/full/659792/highest-paid-celebrities-instagram.jpg
https://data1.ibtimes.co.in/en/full/659792/highest-paid-celebrities-instagram.jpg
Related