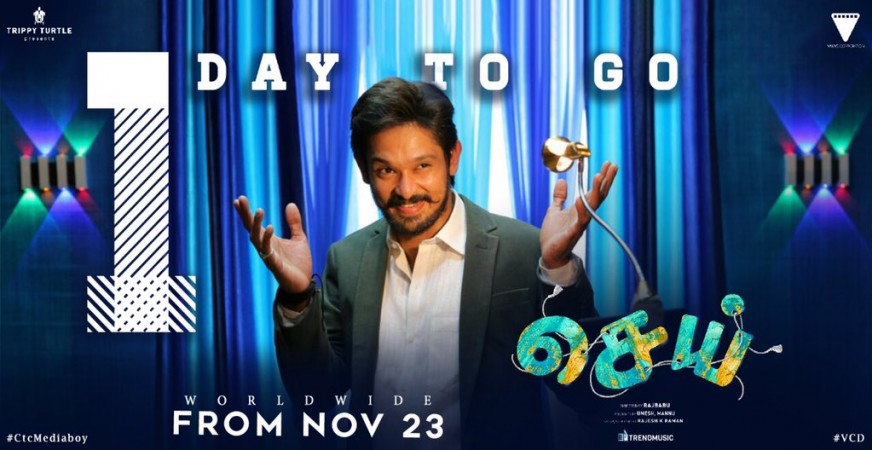 After being delayed over multiple reasons, Nakul's latest movie Sei hit the screens on Friday, November 23. The Tamil film has Mumbai-based actress Aanchal Munjal playing the female lead. Prakash Raj, Nasser, Anjali Rao and many others are part of the project produced by Mannu and Umesh.
Nakul has collaborated with Mollywood filmmaker Raj Babu for which the story and dialogues are written by Rajesh K Raman and Vignesh Raghavan, respectively. Nyx Lopez has composed the music, Vijay Ulaganath's cinematography and Gopi Krishna's editing.
Sei is a comedy thriller in which Nakul plays the role named Saravan, a care-free boy, who faces every situation in life with full of enthusiasm. He is an aspiring actor and dreams to become a star like Rajinikanth. The story takes an interesting twist when he is landed in a serious trouble where the situation reaches to an extent of life and death for him.
The series of coincident and whether the hero displays the same enthusiasm under demanding situation form the crux of the story in Sei.
Review:
The movie has garnered a decent buzz. Will it impress the audience? Find it out in their words here:
Kaushik LM: #Sei - The film has an organ trafficking angle and the hero @Nakkhul_Jaidev transforms from a careless youngster to the one who exposes this crime to the media. The 2nd half is pretty racy, with a msg on organ donation. @prakashraaj plays an honest cop. Total runtime 2 hrs 7 mins
@Nakkhul_Jaidev plays a hyperactive and over-energetic film acting aspirant whose life turns dramatically when he takes on his dad's job as an ambulance driver.. #Sei