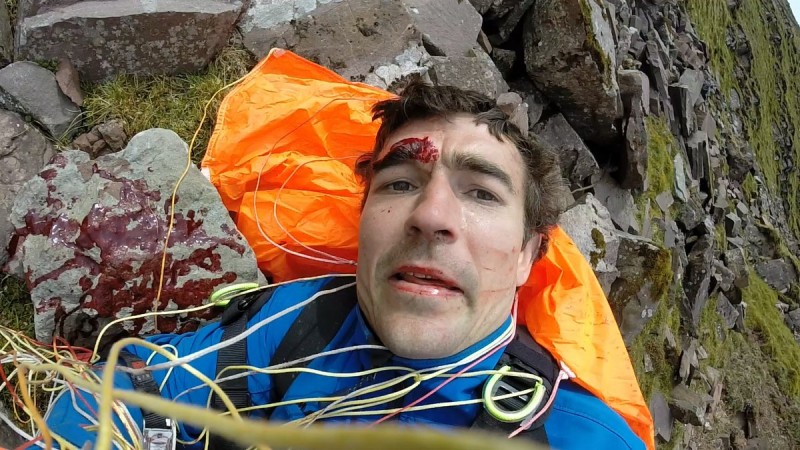 Selfies clicked by TV presenter, biologist and author Niall McCann just moments after a paragliding accident in Mid Wales last year have surfaced online, and people are expressing awe at not only his daredevilry act but also the fact that McCann managed to stand on his own feet just 19 days later!
Also read: Coimbatore: 53-year-old man crashes to death from 100 feet while paragliding
The accident
Born in Canada but a native of the UK, McCann was out paragliding a year ago along the Pen-Y-Fan peak — which has a height of 886 metres — when he lost control and smashed into the side of the mountain. The 35-year-old was quoted by local reports as saying: "The wind pushed my wing more than I expected and I ended up facing the cliff."
The accident — he would later learn — led to fractures in five parts of his spine, besides inflicting other injuries, as is evident from his bloodied right eyebrow in the photos he took at the time. How he managed to take selfies — which have only now surfaced online — is anybody's guess.
The recovery
McCann said about the moments just after the accident: "I told my brother [on the phone] to hold off on calling the emergency services because I thought I might be able to walk. Unfortunately, my legs wouldn't work."
He was subsequently rushed to hospital and the doctors said he would never walk again. However, he managed to stand up after just 19 days, and has since been on the way to complete recovery. He is not only giving lectures in educational institutions nowadays, but also taking up judging assignments.
He is also a wildlife activist with his latest engagement being rallying support to save rhinos from extinction.