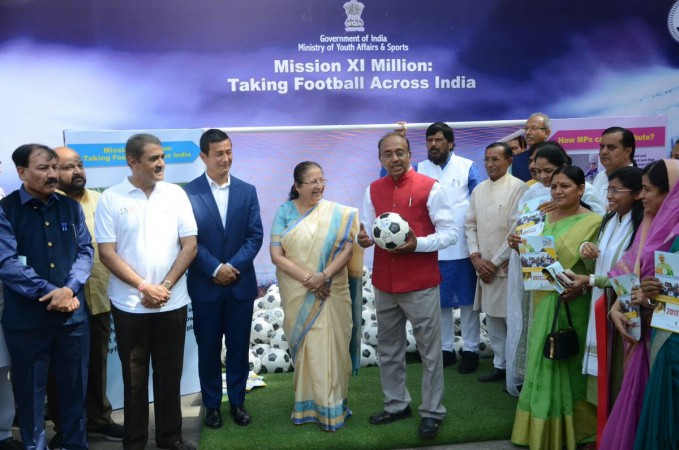 MPs from across India were on Wednesday, March 29, given footballs to distribute across the country as part of the Mission XI Million (MXIM) initiative undertaken by the Ministry of Sports and Youth Affairs. The programme was attended by several MPs and former Indian football captains like Bhaichung Bhutia and Prasun Banerjee. The latter is also a member of the Lok Sabha.
Also read: Festive mood in Kolkata to continue post Durga Puja 2017 as Salt Lake Stadium set to host 10 FIFA U17 World Cup matches
As part of the programme, which was kicked off by Lok Sabha Speaker Sumitra Mahajan — quite literally, because she kicked a football to formally inaugurate the event — the MPs were given footballs to distribute in their respective constituencies as part of the MXIM initiative, which has been launched in the run-up to the Fifa Under-17 Football World Cup, which will be held in India in October.
Setting the ball rolling
On Wednesday, Minister of State (Independent Charge) for Youth Affairs and Sports Vijay Goel organised the mass football distribution programme. Here we see Lok Sabha Speaker Sumitra Mahajan kicking off the event:
With Mahajan setting the ball rolling, other women MPs joined in:
At the programme which was also attended by All India Football Federation (AIFF) chief and MP Praful Patel, Arjuna Awardee Prasun showed off some football skills:
What is MXIM?
The Mission XI Million is a joint school-connect initiative by the Ministry of Sports and the AIFF — launched on February 10 — to spread football across the country, in the run-up to the Fifa Under-17 Football World Cup.
An official associated with the ministry and the initiative told International Business Times, India, on condition of anonymity that the project looks to reach out to 15,500 students across the country, with the target of spreading elementary knowledge of the sport.
"The aim is to tell them they can play football anywhere, with any number of people in a team, and with rudimentary arrangements, like footwear marking off goalposts. That is the current trend in Europe and South America: Children up to the ages of 13-14 should not even be playing in regular-size fields or 11-a-side teams," he said.
The project is expected to culminate in August-September this year with state-level festivals all across the country, where students will be brought to major cities in the states, and will get to play in smaller fields carved out of much bigger playgrounds, the official told IBTimes India.