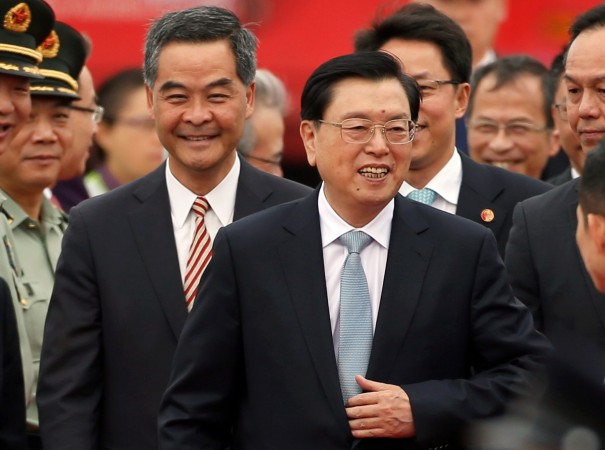 Security in Hong Kong has been increased ahead of a senior Chinese official's visit on Tuesday. Zhang Dejiang, the third-ranking officer in the Chinese Politburo Standing Committee who is responsible for Hong Kong and Macau affairs, is set to meet pro-democracy lawmakers in the city.
The security forces reinforced the adhesive on the bricks on the pavements to make it impossible for protesters to scrap it out and hurl. The Mongkok protests in February had turned violent and protesters had used bricks from the pavement to injure security officials.
"It is really time for him to meet with non-establishment legislators... to hear our analysis of how Hong Kong ended up where we are today, and what are the ways forward," Civic Party lawmaker Alan Leong, who will be meeting Zhang, told AFP news agency.
Zhang will be on a three-day visit, where he'll address an economic conference. However, his visit is being seen as a gesture to calm the pro-democracy calls in Hong Kong, which had peaked in 2014 during the Umbrella protests.
His visit has, however, already angered pro-democracy activists. Zhang, who will be meeting four pro-democracy legislators, has been criticised by activists as they have not been allowed to meet the politician, according to BBC.
Huge barriers have been erected and areas have been cordoned off to bar protesters from entering those spaces. Police have been stationed at Lion Rock mountain to prevent anti-Beijing flags from being put up there, BBC reported.
"Zhang Dejiang is coming here to understand the situation in Hong Kong but now his eyesight will be completely blocked," Sham Tsz-kit of Civil Human Rights Front was quoted as saying by AFP news agency.
Despite the security, a huge yellow banner on Beacon Hill on Tuesday was put up by the League of Social Democrats. It read, "I want genuine universal suffrage," according to South China Morning Post.
Hong Kong is a semi-autonomous city, since it was handed over by the U.K. in 1997 to China. There have been calls for democracy from the mainland as citizens fear greater control from China.