A section of the Ganga pump canal project — built in Bhagalpur district of Bihar at a cost of Rs 389-crore — collapsed on Tuesday evening, submerging the nearby roads and Kahalgaon area in knee deep water.
The incident came mere hours before Bihar Chief Minister Nitish Kumar was to inaugurate the project on Wednesday, .
'Rats have caused the Bihar floods', claims state's Water Resources Minister
Nearly 20 feet of the canal's wall collapsed as it could not withstand the force of the water from the River Ganga that came gushing into it after five pumps were switched on for trial run at Bateshwar Sthan in the Bhagalpur district.
"We started five pumps on Tuesday afternoon to fill the canal as the chief minister was to inaugurate it on Wednesday. But one side of embankment towards NTPC colony could not take the pressure of sudden water flow into the canal and breached, causing water-logging in adjoining areas," an official involved with the project was quoted as saying by the Indian Express.
The inauguration of the 60-km Bateshwar Sthan pump canal that originates from the Ganga at Kahalgaon and was extensively advertised in newspapers has now been cancelled.
Opposition slam Nitish's government
The state Water Resources Department has allegedly blamed the mishap on the "poor quality of embankment work".
However, former Bihar deputy chief minister and RJD chief Lalu Prasad's son Tejashwi Yadav — who had to resign after corruption charges were levelled against him — has now taken a dig at Kumar on the issue.
"A Rs 389.31-crore dam has collapsed ahead of inauguration. The chief minister was to inaugurate the dam with much pomp and show. Yet another dam collapses due to corruption," Tejashwi said in a tweet on Tuesday.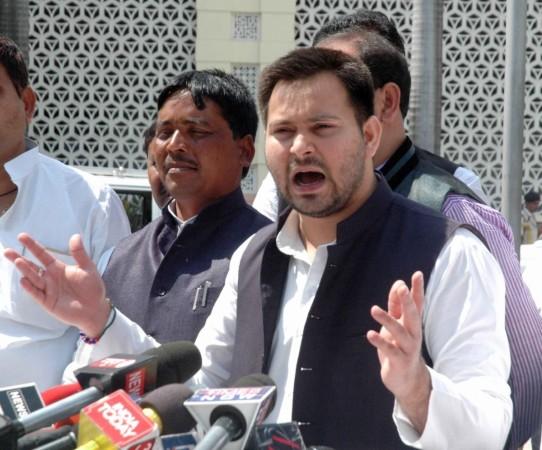 RJD workers also burnt an effigy of Kumar and Irrigation Minister Rajiv Ranjan Singh Lallan in Bhagalpur.
The local MLA, Sadanand Singh of the Congress, who was also supposed to be present at the inauguration ceremony, has said "gross negligence of concerned officials" was the main cause of the collapse.
The project, which was to irrigate 21,700 hectare in Bihar and 4,000 hectare in Jharkhand, was initiated in the year 1977, to be built at a cost of Rs 13.88 crore.
Meanwhile, the water that flooded into localities after the incident in bhagalpur receded after authorities lined the embankment with sandbags to check the flow of water.
"The breach had been plugged and work is in progress to strengthen the wall of the canal where the breach was caused," Arun Kumar, chief engineer (civil), Water Resources Department, told Hindustan Times.
Here's the video of the gushing waters: