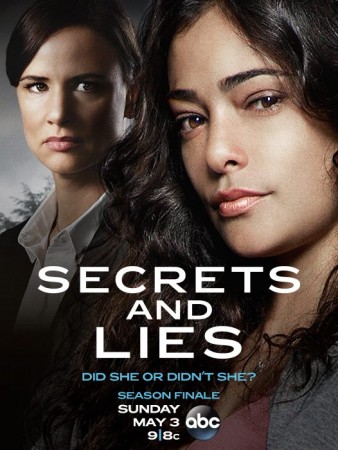 The finale of ABC drama "Secrets and Lies" is upon us, and finally the 10-episode-old question, "Who killed Ben?", will be answered. "The Lie" will also leave fans gape-mouthed as main characters accuse one another of grave crimes.
In the promo clip for "The Lie", Detective Cornell (Juliette Lewis), who is investigating Tom's murder, is seen saying, "It was premeditated murder" and, "He did not kill Tom". To this point, viewers have been seeing the entire show from Ben's (Ryan Phillippe) perspective, believing in his innocence. Will Agent Cornell finally prove his innocence by revealing the true killer in the finale?
Cornell has always maintained that Tom was killed by someone who knew him well. And after investigation she has now confirmed that the killer is female, pointing out that the killer's initial plan was to drown Tom and that drowning is usually the tactic used by female killers.
In the previous episode, "The Mother", Ben found out that Jess (Natalie Martinez) is bipolar and schizophrenic, and that she has a suspicious blue coat, that leads to search of her house. While snooping around, Ben also finds out that Jess used to have another child who dies within a year.
Jess, however, gets angry, finding him at her house. While he starts wondering if Jess killed her own son, his estranged wife Christy (KaDee Strickland) calls Ben and informs him that their younger daughter Abby (Belle Shouse) is missing. He panics and starts searching for Abby, when Jess asks him, "How does it feel to lose your daughter?" In the promo, she is also seen accusing Ben of raping her, and he refutes the claim by calling her crazy.
When Ben took Abby to see fireworks, Jess tagged along, infuriating the young girl. Abby felt that her father does not love his family anymore and that he only has eyes for Jess. Because of her possessiveness for Ben, could she have killed Tom?
Her mother, Christy, who is currently dating another man, is also a murder suspect, as she has learnt about the affair between Jess and her husband on the night Tom died.
Find out who killed Tom on 1 May, Sunday, at 9pm (EST) on ABC.