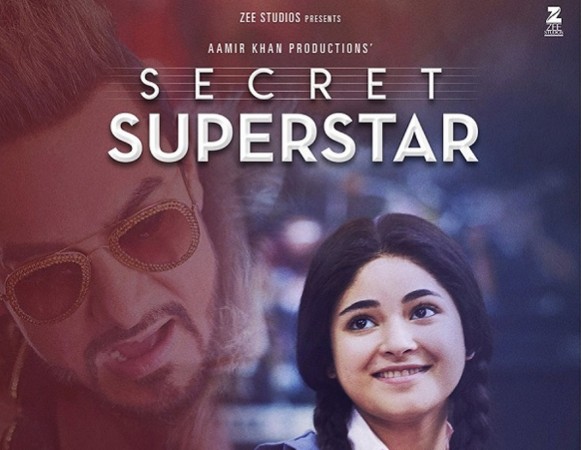 Rating: 4.5
Cast: Aamir Khan, Zaira Wasim, Meher Vij, Raj Arjun
Director: Advait Chandan
Genre: Drama
Aamir Khan has given a beautiful Diwali gift to his fans in form of his movie Secret Superstar. The Advait Chandan directorial has won hearts with its storyline. Zaira Wasim and Meher Vij have given a brilliant performance as daughter-mother, while Aamir's comic timing will leave you in splits.
STORYLINE
A film essentially based on music with lead protagonist Insia, a 15-year-old class 10 girl, played by Zaira Wasim being an aspiring singer. The young girl faces resistance from her conservative father (played by Raj Arjun) after which she opts to follow her dreams by posting videos on social media anonymously (wearing a burqa).
The only silent supporter here in Insia's life - her mother (played by Meher Vij). Cut to, Aamir Khan who plays Shakti Kumaarr and motivates Zaira to pursue her dreams. But this movie is not about Aamir and that is the highlight which you will know when you watch the film.
PERFORMANCES
Zaira Wasim is an absolute star and you will connect with her within seconds. Talking about Aamir Khan, he is at his funniest best and brings in the right amount of humour in this heavily emotional movie.
Apart from Aamir and Zaira, some other actors have also made remarkable performances in the movie – Meher Vij [mother], Raj Arjun [father], Tirth Sharma [friend] and the little boy who plays Zaira's brother. Every character will touch your heart in its own way.
POSITIVES
Zaira Wasim and her mother are the stars of this film. Despite Aamir being a part of this movie, Zaira owns this film and no one can take that from her.
NEGATIVES
It's a bit melodramatic. A few scenes are very predictable.
VERDICT
Overall, a wonderful film and it is the movie of the year. A must-watch!
Watch audience review on Secret Superstar: