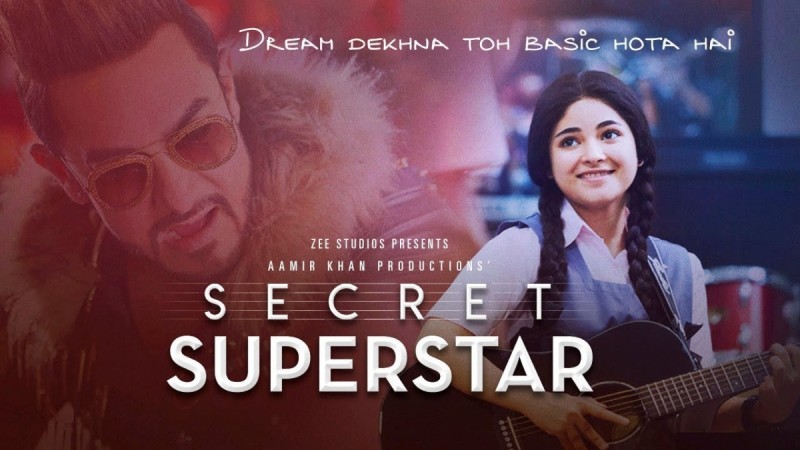 The response Secret Superstar got within three days of its release in Taiwan is something that can make every Indian proud of the movie.
The film is being shown on 73 screens nationwide, a record-breaking release in Taiwan for an Indian movie till date.
Aamir Khan has got a huge fan following overseas; his previous movies point to it. Dangal was the biggest example. Even movies like 3 Idiots and PK have gone on to become huge blockbusters overseas.
Secret Superstar went on to become one of the sleeper hits of 2017. The film received accolades from critics and audience alike for its heart touching content in Taiwan as well.
The film revolves around the schoolgoing Insiya Malik, played by Zaira Waseem, who aspires to become a singer but is not allowed by her overbearing father.
So she takes the online route with the help of small-time music director Shakti Kumar, but keeps her identity a secret.
The powerful story and the splendid performance by the whole cast, including that of Aamir, are being loved by the audience in Taiwan, proving that content and performance are valued by the global audience.
Secret Superstar director Advait Chandan said: "He (Aamir Khan) is expanding the market for the films that are being made in India, The doors have opened for our films.
"This is the magic of Aamir sir. He is popular [globally]. His overseas audience is growing with every film. He is a torchbearer of Indian cinema in the eastern province."
Secret Superstar has earned approximately Rs 56 lakh within three days of its release in Taiwan, compared to Dangal's Rs 67 lakh.
Produced by Aamir Khan and Kiran Rao under the banner name of Aamir Khan Productions, Zee Studios, and Akash Chawla, Secret Superstar is written and directed by Advait Chandan. The film was released on October 19.