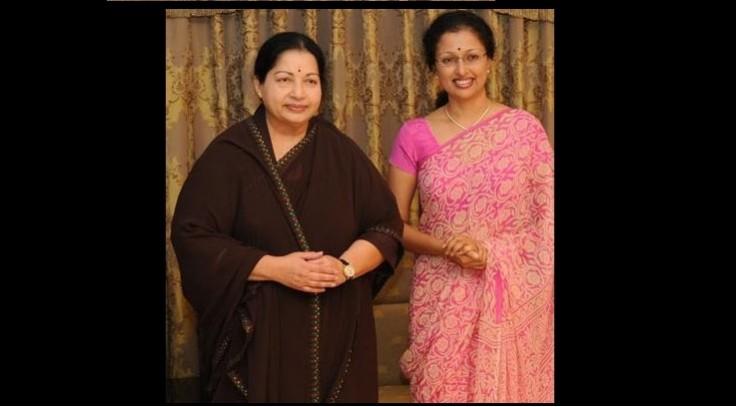 Former Tamil Nadu Chief Minister J Jayalalithaa's sudden demise has shocked thousands of her followers, who are still mourning the loss of the powerful politician in the state. Celebrities, politicians and many dignitaries paid their final respects to the 68-year-old at Rajaji Hall in Chennai, where her mortal remains were kept for public to pay tributes on December 6.
Now, a few days after the death of Jayalalithaa, who is fondly called Amma by her followers, yesteryear actress Gautami Tadimalla has written an open letter to Indian Prime Minister Narendra Modi raising a few questions on the two months Jaya spent at Apollo Hospital in Chennai. She has posted the letter on her blog titled "Tragedy and Unanswered Questions."
"Her [Jayalalithaa] demise is all the more tragic and unsettling because of the circumstances over the past few months and the sheer volume of unanswered questions about our late Chief Minister's hospitalisation, treatment, reported recovery and very sudden passing," Gautami writes in the letter.
The actress also questions why so much secrecy was maintained about the late CM's hospitalisation and health, and why many dignitaries who wanted to visit her were turned away.
"Nobody had been allowed access to her and many dignitaries who visited her with deep concern were denied an opportunity to convey their wishes in person. Why this secrecy and isolation of a beloved public leader and the head of the Tamil Nadu government? What/whose authority restricted access to the late Chief Minister? Who were the concerned persons who were making the decisions about Selvi Dr. J Jayalalithaa ji's treatment and care when her health was apparently in such a delicate state? And who is responsible for these answers to the people?," Gautami asks echoing the voice of common people, who also have these burning questions in mind.
Read the full letter here:
The Honourable Prime Minister of India,

Shri Narendra Modiji

Dear Sir,

I write this letter to you today as an ordinary citizen of India. I am a homemaker, a mother and a working woman. My concerns and priorities in my life are those that are shared by many of my fellow countrymen, primarily to build a safe and nurturing environment for my family that will allow them to live a safe and fulfilled life.

I am also one among the crores who are mourning the recent shocking demise of our late Chief Minister, Selvi Dr. J Jayalalithaa ji. She was a towering personality in Indian politics and was a great inspiration for women from all walks of life. Her leadership of Tamil Nadu, over several terms in office, has brought us to the forefront in many spheres of development. Selvi Dr. Jayalalithaa ji's undeniable strength and determination to persevere against all odds are a lasting legacy that will continue to inspire individuals of every gender to persist in pursuit of their dreams in life.

Her demise is all the more tragic and unsettling because of the circumstances over the past few months and the sheer volume of unanswered questions about our late Chief Minister's hospitalisation, treatment, reported recovery and very sudden passing. There has been a near total blanketing of information regarding these matters. Nobody had been allowed access to her and many dignitaries who visited her with deep concern were denied an opportunity to convey their wishes in person. Why this secrecy and isolation of a beloved public leader and the head of the Tamil Nadu government? What/whose authority restricted access to the late Chief Minister? Who were the concerned persons who were making the decisions about Selvi Dr. J Jayalalithaa ji's treatment and care when her health was apparently in such a delicate state? And who is responsible for these answers to the people? These and many other burning questions are being asked by the people of Tamil Nadu and I echo their voice in bringing them to your ears, sir.

No doubt some might say that it is a moot point because it has happened as it has, but that, sir, is precisely my fear. I ask these questions now because it is a primary concern and right of every citizen of India to be aware of and informed about their democratically elected leaders. To be aware of their state of health and ability to perform their duties for the larger good of the people. To be concerned for the wellness and comfort of a beloved leader of the masses. And the fact that a tragedy of such tremendous scale should not go unquestioned and definitely, not unanswered, under any circumstances. If this be the case with a public figure of this magnitude, then what chance does the common citizen of India have when he fights for his personal rights? The confidence of every Indian in the democratic process that makes our nation so great is precious and must be protected against all odds.

I am writing to you now, sir, with the complete confidence that you share my anxiety and determination to uphold the rights of every Indian to be aware and informed of any factor that impacts our day to day life. You have proven yourself in many ways to be a leader who is unafraid to stand up for the rights of the common man and I am confident that you will heed the call of your fellow countrymen.

With my deepest respects and trust

Jai Hind!

Gautami Tadimalla