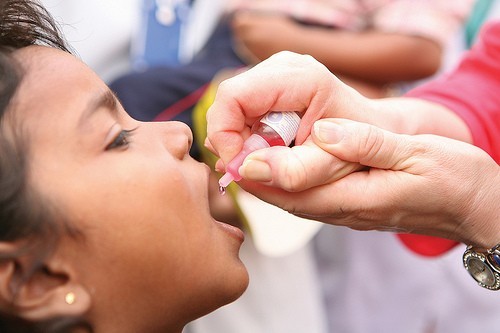 The second phase of the National Pulse Polio Programme began Feb. 21 across India. Polio booths throughout the country reportedly witnessed a huge turnout of children under the age of five on the first day of the five-day drive.
Nearly 174 million (17.4 crore) children are likely to be vaccinated during the drive. The first day of the drive witnessed booth vaccination and will be followed by door-to-door campaigns by health workers, Accredited Social Health Activists (ASHAs) and volunteers.
The Union Ministry of Health and Family Welfare has partnered with the World Health Organisation (WHO) to oversee the implementation of the programme.
"We have reported over 90 percent coverage across South India with the exception of Kerala and Karnataka. In these states, there is a robust campaign going on and our workers are now reaching out to people for door-to-door monitoring till the culmination of the programme." WHO South India regional team leader Ashish Satapathy told International Business Times, India.
The states of Punjab, Haryana, Jammu and Kashmir, and Uttar Pradesh across North India have also reportedly responded well to the Pulse Polio initiative.
India, declared polio-free by the WHO in 2014, will engage 2 million healthcare workers in the Pulse Polio drive.
The police forces and the Indian Railways have also stepped in to make the initiative a success.
The Southern Railways has set up 248 booths in railway colonies, stations and hospitals as part of the drive.
There will also be 39 mobile teams on trains to cover children who could not come to the stalls at stations. The service will be open from 6 a.m. to 6 p.m. on all days at all major railway stations, an official statement of the Southern Railways said.
Prime Minister Narendra Modi was quoted by PTI as urging the police forces to actively engage and oversee the implementation of community programmes like Pulse Polio drives. The Indian government has pumped in $2.3 billion funding to make the initiative a successful one.
[1 lakh = 100,000 | 1 crore = 10 million | 100 crore = 1 billion]