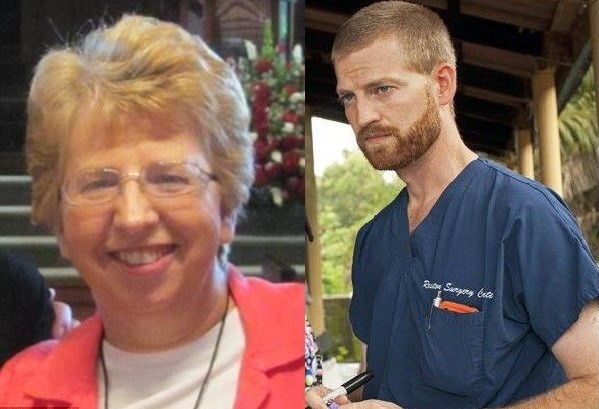 The Atlanta hospital that is currently treating Ebola patient Dr Kent Brantly, is now gearing to receive the second American suffering from Ebola.
The Emory University Hospital, however, is facing a tough challenge both inside and outside the medical facility.
The hospital since the arrival of Dr Brantly has received several hate mails and nasty calls from the panic-stricken public.
Missionary Nancy Writebol, who contracted the disease while assisting Dr Brantly in Liberia, will be the second patient to be flown down to Atlanta in the special CDC jet with an isolation unit.
CNN reported that Writebol will be flown in on Tuesday and will arrive at Dobbins Air Reserve Base.
Writebol and Dr Brantly are the first of the Ebola patients in to have received treatment in the US.
According to the World Health Organization, the outbreak in Liberia, Sierra Leone and Guinea has infected 1,323 people and killed more than 729.
Americans Panic
Since the announcement of the news that American Ebola patients will be brought home, hundreds of Atlanta residents have been in a state of panic.
The Emory hospital, which has one of world's best isolation facility, has appealed to the public to show compassion.
The public fear is high that there could be an Ebola virus outbreak in US.
"I hope our understandable fear of the unfamiliar does not trump our compassion when ill Americans return to the US for care," said Dr Tom Frieden, director of the US Centers for Disease Control (CDC), also based in Atlanta told The Independent.
Scores of worried American public have sent in "nasty emails" besides making over a 100 call questioning the decision to bring back the Ebola infected Americans, he revealed.
On Twitter, several posts under hashtag EbolaOutbreak had displayed the growing fear among the Americans.
"The road to hell was paved with good intentions," one person had tweeted, while another said, "What do we say to our kids When they get sick& die?"
However, the most criticized post was made by none other than billionaire businessman Donald Trump.
Stop the EBOLA patients from entering the U.S. Treat them, at the highest level, over there. THE UNITED STATES HAS ENOUGH PROBLEMS!

— Donald J. Trump (@realDonaldTrump) August 1, 2014