Sean Bean, who played Ned Stark in the HBO hit series "Games of Thrones" revealed that he got over the shocking and untimely death of his character by playing football with his replica head.
In one of the earliest and shocking deaths in "Game of Thrones", Eddard 'Ned' Stark, head of House Stark and Lord Paramount of the North, was beheaded by the arrogant boy-king Joffrey Bratheon.
Eddard discovers the incestuous relationship between Cersei Lannister, who is married to King Robert Baratheon, and her twin Ser Jamie Lannister, which resulted in the birth of Joffrey and his siblings. When King Robert dies, Eddard challenges the legitimacy of his successor and supposed son Joffrey Baratheon, resulting in him being arrested for treason. He confesses to the crime to protect his family, but is killed nevertheless, owing to Joffrey's sadism.
A death that made us all truly despise a certain "royal bastard." The honorable Ned Stark. https://t.co/eXEHfCv6mK #TakeTheThrone

— Game Of Thrones (@GameOfThrones) April 6, 2014
On 6 August, Bean had held a Q&A on reddit to promote his new show Legends. "I'm here on behalf of LEGENDS my new show on TNT August 13. Victoria from reddit is helping me out today. AMA."
When Bilbos-Tardis asked him which is the one role he wish he had longer, Sean said it was that of Ned Stark. When asked if he would take rather take Robert Baratheon (GOT) or Aragorn (Lord of the Rings) when going into battle, he answered the former, because, "If Robert got ahold of you, he'd crush you."
About Ned's death in Game of Thrones, Bean said he knew it was coming, but it was still out of the blue and a nasty shock. "Especially after Ned Stark thought he'd got some agreement between Joffrey and the various factions, and for them to renege on that deal was pretty shocking," he said echoing every fan's emotion.
He further described the shooting of his death scene in a big public square in Malta. "It was weird, you know? Because they made a cast of my head with hair on it, I've got some pictures of me holding my head. And it was fun. I don't know, you kind of just have to imagine what it's like to have your head chopped off, Ann Boleyn and how she must have felt."
He felt that the manner in which Ned was killed made it all the more tragic. He, however, got over the decapitation by using his head as a football and kicking it around with the rest of the cast.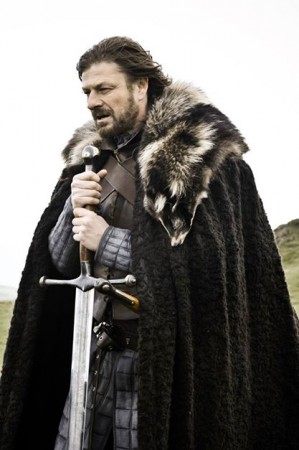 Bean is known for short-lived roles, in that his characters gets killed off quite often. He had expressed much excitement in the possibility of going back on "Game of Thrones" to look into some unfinished business with some of the main characters in an interview with vulture on 17 July. He also said he is obviously not Jon Snow's dad.
"You need that to be revealed at some point, don't you? So Bran would kind of be the one having the flashback, and he would see Ned praying, right?.... I certainly would be into that. Print that! Give them a nudge. [Laughs.] Hopefully I'll get a call soon," Bean said.
Jon Snow's lineage came up during the Q&A as well, when AxeApollo asked, " Why did you not teach Jon Snow anything?" Bean responded, "HAHAHAHAH! Because he's not mine! Little bastard!"
Recently a "Game of Thrones" fan theory 'R+L=J' about Jon Snow's actual parents went viral. It claimed that Ned Stark was in fact not Snow's father and that he was actually the son of Rhaegar Targaryen and Ned's sister Lyanna Stark.