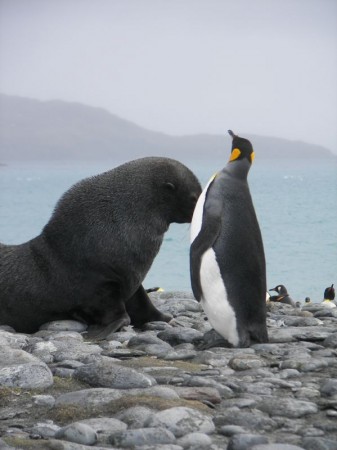 There is more reason to worry about Antarctica than global warming - sexual harassment. Scientists who have been documenting wildlife in the sub-Antarctic Marion Island have reportedly witnessed multiple incidents where fur seals were sexually harassing penguins.
The study titled "Multiple occurrences of king penguin (Aptenodytes patagonicus) sexual harassment by Antarctic fur seals (Arctocephalus gazella)" published in "Polar Biology" describes four separate occurrences of sexual coercion of kin penguins by Antarctic fur seals.
Male and female penguins mate through an opening called the cloaca, but the seals are found to have penetrated the birds aggressively in some of the acts, which have been caught on film.
All known sexual incidents followed a pattern, wherein a seal chased, captured and then engaged in sexual penetration with the penguin. The seals are said to have attempted copulation multiple times with resting periods in between. Each time, the copulation is said to have lasted about five minutes.
While three of the four times the seal let its sexual partner go, in one case, the seal killed and ate the penguin after mating with it.
However, these incidents do not come as a complete shock to the scientists. Back in 2006, for the first time a fur seal was seen attempting to copulate with a king penguin on the same Marion island, which is a natural habitat of both the species.
BBC had quoted Nico de Bruyn, of the Mammal Research Institute at the University of Pretoria, South Africa and one of the researchers of the study said, "At first glimpse, we thought the seal was killing the penguin." The scientists had assumed that it was either a predatory act or a playful one that had turned sexual.
Regarding the latest observations of repeased incidents of sexual harassment de Bruyn told BBC, "Honestly, I did not expect that follow up sightings of a similar nature to that 2006 one would ever be made again, and certainly not on multiple occasions".
As to why the seals are doing this, the scientists can only speculate, although they are certain that the behaviour is increasing in frequency. "...We really can't think of what the reward may be for these young males, other than perhaps learning that these birds are an easier target to practice their copulatory skills."
"Perhaps it is a release of sexual frustration, given the hormonal surges during seal breeding season. It is very unlikely to be failed mate recognition," explains de Bruyn.