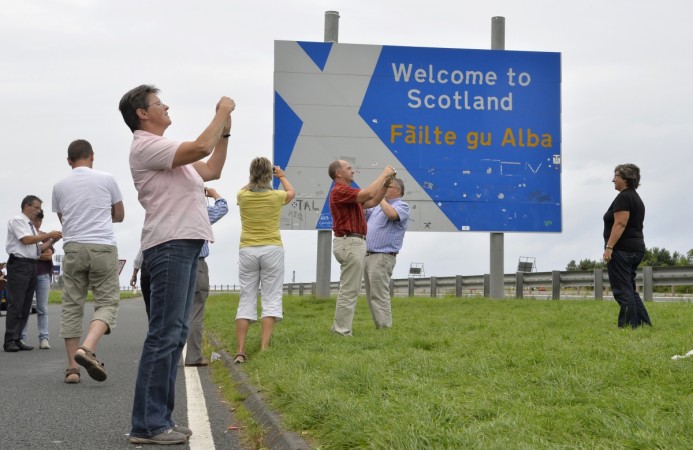 Just for practice or a bad joke?
With only two days left for the historic day when the Scottish decide whether they want to remain a part of the UK or make their way out of it, a bunch of pranksters have set up a fake passport checkpoint at the Scottish border, baffling the travellers to the core.
Motorists driving past the so called 'checkpoint' at the border at Carter Bar, near Jedburgh, were surprised when they saw barriers set up near a big signboard, which claimed to be from the 'Scottish Border Agency' erected alongside another big billboard, which said 'Welcome to Scotland'.
However, it wasn't long before it was learnt that the checkpoint was a hoax set up by pranksters, who argued that the joke would help people lighten up from the ever increasing tensions emanating from the subject, of late.
It can't be said with certainty if the hoaxers were trying to jest in good faith or whether they were deliberately trying to make a joke out of the whole issue of Scottish independence.
"We're not making a point for either side," organiser of the prank Jon Parker Lee, a photographer from Manchester, told Daily Mail.
"We've staged this together as a group of Scotland and English. We're simply united in having a laugh...Come what may, we all love a wind-up, and maybe this will give everyone a laugh and a break from the ever-increasing heat of the debate."
The spoof border and the prank of the passport checkpoint came after the campaigners for and against the Scottish Independence have clashed on whether there should be border control checkpoints on the border.
On Sunday, British Prime Minister David Cameron begged the Scots not to rip the Union apart, calling such a separation a "painful divorce" while declaring to all his naysayers that he won't be prime minister forever.
The teary-eyed PM issued his most emotional plea yet to voters ahead of Thursday's historic referendum.
"Please don't break this family apart," he pleaded.
"If you don't like me – I won't be here forever. If you don't like this Government – it won't last forever. But if you leave the UK – that will be forever," the emotional leader told an audience in Scotland.