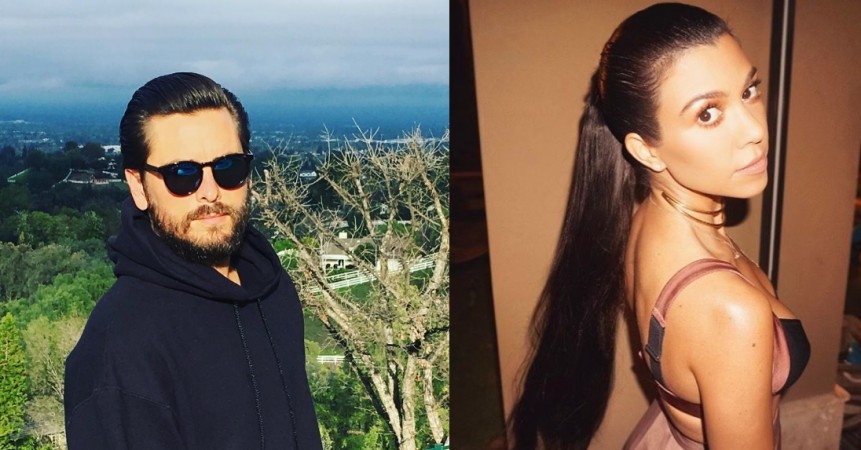 Scott Disick has always been at odds with his ex-girlfriend and Keeping Up With The Kardashians star Kourtney. His recent Instagram post adds on to it, which captured the attention of over 46,000 netizens in few hours.
Also Read: Kourtney Kardashian flashes her nipples while hanging out with Justin Bieber
The 33-year-old television personality left a provocative message to his baby mother by uploading an image of his arm holding a piece of paper with few words on the photo sharing platform. "Try something new and different. You will like the result," read the message on the paper.
The Instagram post was accompanied with the caption: "I like this 1" and it captured the attention of several netizens. Some of them criticised Disick and questioned his loyalty towards former girlfriend Kourtney.
"You try something new and different like every other month. How about just staying a classy guy and being a kick ass father? Why do you always have to be searching for something better? Be grateful for what you have. Do you think any other girl will look as good as Kourtney after 3 kids? Do you think any other girl will care about you as much as Kourtney after all this time? And she's stupid too!
You both need to stop playing games and go full in. No counseling and dumb shit like that. Just be considerate of each other and love each other. Be happy for what you both have, it's more than 99% of the population. Love, money, beauty, beautiful children, good health.... I just think for you and Kourtney not to make this work would be such a waste," wrote an Instagram user monikered as samanthapellio.
Meanwhile, another follower of Disick asked, "Yea why stick to kourney when u can try a mew gal eerdayyy @letthelordbewithyou."
A few of his fans, such as Christine Tolland, even supported him as she wrote, "I just think u love Kourt so much...she never returns the love back. That's why u go elsewhere just to feel liked to get some of emotional from someone. I am sure we all been there. But you need stop think what u want now, as if Kourt not going to love u back you'll need find it somewhere else.
Someone that will love u back the way u love them. You are amazing man scott been throw alot lately plus being in the public eye. mibby not how u want things but to be. I see how u love Kourt. You totally deserve to be loved.. keep fighting xx."
The Instagram post came hours after E!Online released the latest promo of Keeping Up With The Kardashians that showed Disick admitting his sexual addition to Kim after she confronted him for accompanying another woman to their family trip.
Watch the official trailer for Keeping Up With The Kardashians season 13 below: