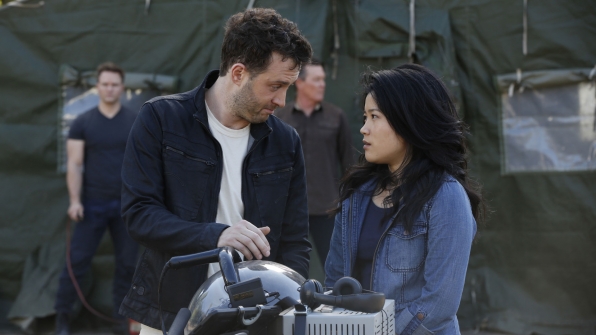 The season finale of CBS' action-drama series "Scorpion" Season 2 was a roller-coaster ride of exciting and emotional moments as not only Toby (Eddie Kaye Thomas) proposed to Happy (Jadyn Wong) and was rejected, but Walter (Elyes Gabel) finally confessed his love for Paige (Katharine McPhee).
Adding to the shock of fans, it was revealed that Happy was previously married while Paige went on a vacation with Tim (Scott Porter) and Walter regretted the fact that he didn't tell her about his feelings earlier.
Executive producers Nick Wootton and Nick Santora recently discussed what viewers can expect in Season 3 of the series. In an interview with TV Line, Wootton said Toby and Walter's moves will have a significant impact on Team Scorpion in the upcoming season.
"This is certainly going to reverberate through the entire team. It's our kicking-off point for the next season, for the emotional stories. How is this going to play out? Who is she married to? How did that happen? Where is that person? All of these things are going to be fodder for next season," Wootton said.
Santora also talked about Walter and Paige's future and hinted that they might end up together in the next season of "Scorpion".
He explained that they won't be together in the first few episodes, but once Paige will be away with Tim, Walter will realise how much he misses her and it would mean a lot to Paige.
"It tees up more Waige... The Waige relationship will always be there. Even if it's bubbling under the surface, even if they relationships with other people, it's always there," Santora said.
Wotton urged Paige supporters to have some patience as the "payoff will be even sweeter."
According to Design & Trend, "Scorpion" Season 3 is expected to premiere on CBS around September this year.