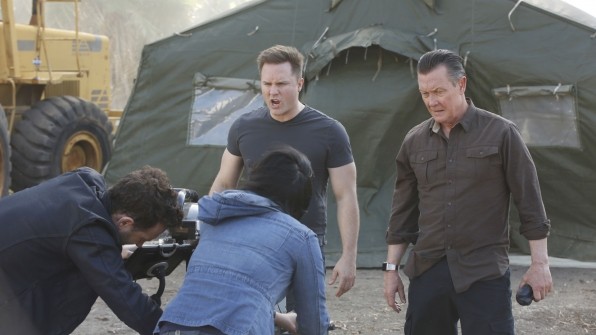 The next season of CBS' action-drama series, Scorpion, has been confirmed to be more emotionally thrilling and interesting than the previous one.
Season 3 of Scorpion is all set to premiere next month and Nick Wootton, executive producer of the show, has been teasing about several plot twists, romance and conflicts in the upcoming episodes.
One of the major elements of the series will be the romantic affairs within Team Scorpion, especially between Happy (portrayed by Jadyn Wong) and Toby (portrayed by Eddie Kaye Thomas). The romantic relationship between Walter (portrayed by Elyes Gable) and Paige (Katharine McPhee) will also be highlighted in season 3.
Wootton said that upcoming episodes will focus on Walter's struggle to confess her feelings to Paige and the series will delve deeper into their relationship and personal lives. However, things are not going well for several members as after Happy rejected Toby's marriage proposal, the story got serious and intense.
Spoilers ahead: The following article consists of major spoilers regarding the upcoming episodes of the show. Proceed at your own risk.
Recent rumours have stated that in one of the upcoming episodes, Walter will die or will go missing and the team will have to operate without him. Though the fact has come as a shock to the fans, many of them are wondering who will be leading the team once Walter is gone.
Season 3 will also explore the story of Cabe's (portrayed by Robert Patrick) mysterious love interest and Ralph's (portrayed by Riley B Smith) role of a translator for a boy who is suffering from autism.
However, what fans are eagerly looking forward to is the identity of Happy's husband, and the truth about him. McPhee had hinted earlier that Happy's unidentified husband is from the show only and viewers are familiar with him.
Scorpion season 3 is scheduled to air on October 3 on CBS.