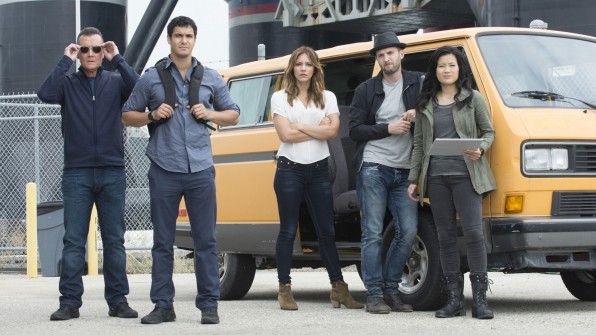 Things will take a shocking turn when team Scorpion, along with Walter (Elyse Gabel), realise Walter's new date, whom he met only recently, is actually a terrorist and might jeopardise all of their lives as she has a bomb strapped to her chest in the latest episode titled "Da Bomb" of "Scorpion" Season 2.
CLICK HERE to find out what Walter and others do once they realise there is a suicide bomber among them.
According to the synopsis by Hollywood Hills: "Team Scorpion must sabotage their own NASA mission in order to rescue Walter's bad date. Team Scorpion is will end up getting tasked with helping NASA's top secret rocket launch, but they will have to sabotage their own mission when Walter's date from the previous night has a bomb strapped to her chest."
In a recently released promo of the episode, Walter O'Brien is trying to speed-date a girl. Undoubtedly, Paige (Katherine McPhee) won't react to the news in a very positive manner.
Happy asks Paige about Walter's new date and what plans he has with her. This further infuriates Paige. However, she controls her anger and calmly states: "I didn't think that at all. We both made a decision not to see one another, and if he wants to torture himself by speed dating with lunatics, he can be my guest."
It seems yet another couple will be introduced in the upcoming episode as Happy and Toby might progress in their relationship.
In an interview with TV Line, Nick Santora, executive producer of the series, talked about how Happy and Toby's relationship would be portrayed in the future episodes.
Things are certainly going to change for all members of Team Scorpion as Walter is eventually trying to move on from Paige and is looking for a new love.
Whether he is able to stop his date from killing everybody in the vicinity will be seen only in the next episode.