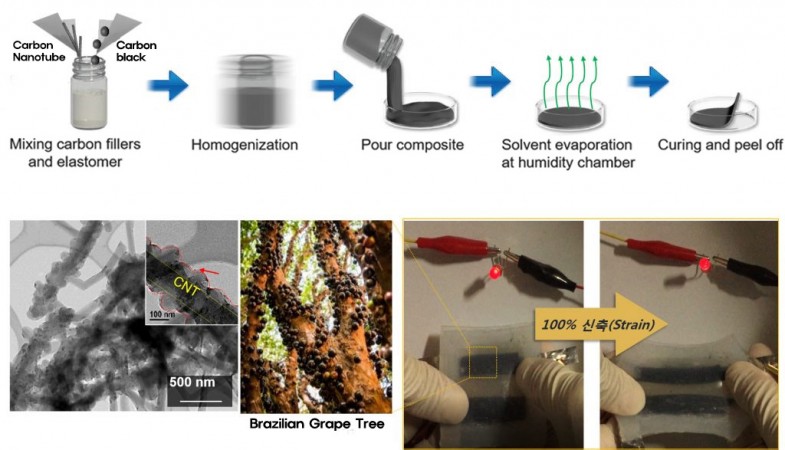 Stretchable electronic devices have been called next-generation devices due to their immense flexibility, and the amount of interest they have generated among technology enthusiasts and gadget lovers has fuelled the need to search for highly stretchable electrodes with high mechanical durability and high electrical conductivity.
However, no feasible method to achieve this had been proposed until recently. Scientists from South Korea have now developed highly stretchable aqueous batteries that can be used in wearable electronic devices.
A research team led by professor Soojin Park at Ulsan National Institute of Science and Technology (UNIST) in collaboration with Professor Kwanyong Seo and Professor So Youn Kim has for the first time developed a highly stretchable rechargeable lithium-ion battery (ARLB) based on aqueous electrolytes by using hybrid carbon/polymer (HCP) composite as a stretchable current collector.
Also read: Fingernail-sized chips to replace supercomputers soon
The scientists found the HCP composite suitable for use in highly stretchable aqueous Li-ion batteries as it can effectively retain its electrical conductivity even under high strain rates.
"Our findings are expected to expand the number of stretchable nanocomposites with electrochemical and mechanical properties available for use in a wide variety of applications," said Professor Kwanyong Seo.
"This study is expected to facilitate the design of stretchable nanocomposites with optimized electrochemical and mechanical properties for use in energy storage devices and stretchable electronics," said Professor So Youn Kim.
Stretchable electronics, also known as elastic electronics or elastic circuits, have been in the making for over a decade now but failed to get far. However, experts are of the opinion that the stretchable electronics industry will boom in the next decade.