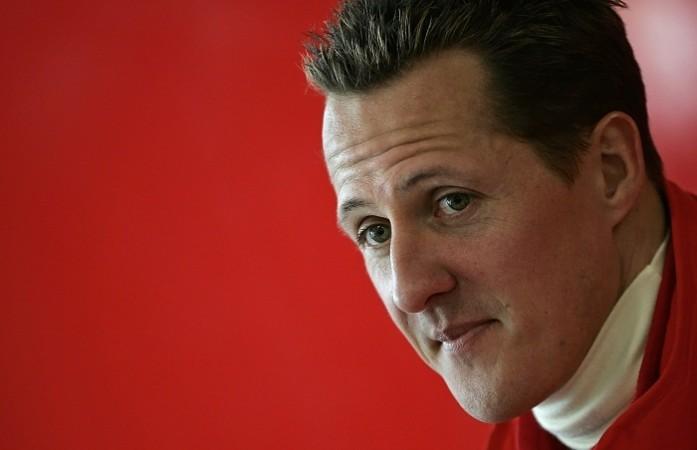 Formula 1 legend Michael Schumacher can leave the University Hospital of Lausanne (CHUV) and move to his home within a month, according to reports.
Schumacher is undergoing a rehabilitation process after coming out of coma in CHUV, witzerland, which is one of the leading brain research institutions in the world.
The 45-year-old was shifted to CHUV from the Grenoble Hospital, France last month and was expected to be there for a long period of time.
However, the seven-time world champion can now move his eyelids to communicate with his family. According to the Mirror, Schumacher answered his children - Gina-Maria and Mick - and wife Corinna by "fluttering his eyelashes".
Reports also suggest that the doctors are hoping to put the former Ferrari driver on an advanced electronic wheelchair, which can be controlled by mouth, in the next few weeks.
Meanwhile, according to the Daily Mail, Croatian doctors Darko Chudy and Vedran Deletis have been approached to help Schumacher. They have developed a microchip-implanting technique that can make the former F1 driver talk and hopefully walk as well.
Doctor Chudy confirmed that he has been approached to help the former F1 driver but did not reveal any details about Schumacher's case.
The report also states that their revolutionary technique has already helped other patients.
"We've had a case with Croat schoolboy and he started to walk after two months," Doctor Chudy said in an interview.
Schumacher had smashed his head in a skiing accident in the French Alps back in December and was in a medically induced coma since then. He was out of the coma recently and is under intense examination in Lausanne.
Schumacher's wife Corinna issued a statement during the German Grand Prix and thanked all the fans for their support throughout.
"The German Grand Prix gives me the perfect opportunity to cordially thank you all for the good wishes and positive energies you keep sending to Michael," Corinna wrote. "I have to say your sympathies blew us all away.
"It is good to know that together we made it through the hardest time," she added. "Now we are facing a phase which will presumably take a long time."