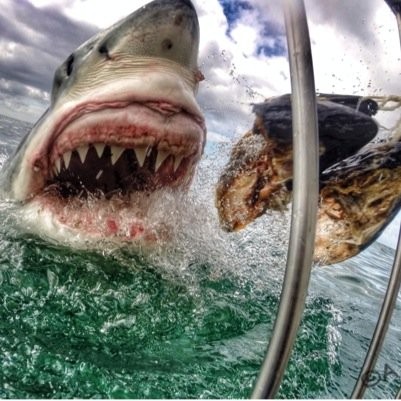 A 25-year-old art teacher from New Jersey has captured photos of a great white shark, while cage diving in South Africa, which has gone viral on social media.
Amanda Brewer who is fond of marine fauna, was delighted to spend her time in the waters of Mossel Bay, according to Time Lightbox.
"When you're there and you're in their presence, it's not scary. They're beautiful and graceful, and you can see how intelligent they are," said Brewer, who claims that she was not a bit frightened.
While taking candid shots with her GoPro camera, she had no idea that the giant shark would approach her with its jaws open, she recalled. Thus clicking on the very moment gave her the picture-perfect moment.
"I'd been waiting for this kind of experience my whole life, and was worried that when it finally happened I'd ruin it, but that photo was taken from the cage and the shark was just coming straight at me."
#GoPro #photooftheday #whitesharkafrica #sharks #conservation pic.twitter.com/Ol6ruX7BYU

— Amanda (@A_C_Brewer) October 8, 2014
The image created waves on the internet and has been shared widely on social media. Brewer says that her Instagram page has alone received more than 3,50,000 likes for the picture, GrindTV reported.
"I knew immediately that that photo was going to do something."
But Brewer had to go through criticism from shark advocates over the use of bait while taking the photo.
Time Lightbox reported that Brewer got this lifetime chance as she volunteered for the eco-tourism and animal conservation organisation White Shark Africa this summer to collect data.