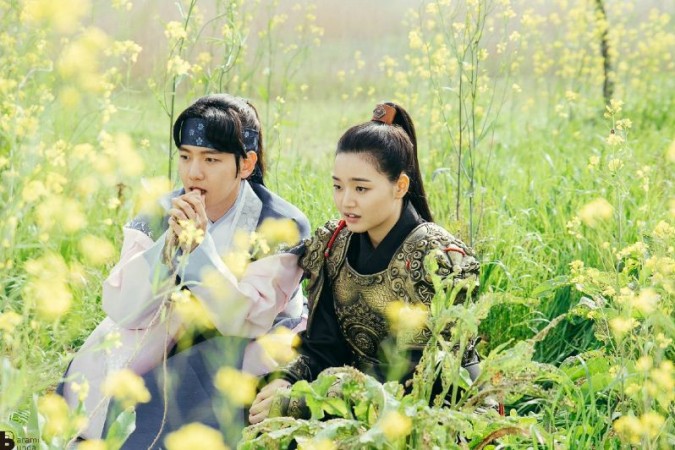 Z Hera, a South Korean singer popularly known for her role as Park Soon-duk in SBS period drama Moon Lovers: Scarlet Heart Ryeo, recently spilled a few details about the fate of Prince Wang Eun and her character in the show.
The onscreen couple managed to impress the viewers and received a warm welcome from them with their romantic yet innocent storyline. But considering the cliffhanger of episode 15, it is not clear if the fans will get to watch them together again in the Korean mini-series.
Even the 20-year-old actress does not seem to be very optimistic about the fate of her character. While interacting with a representative of Korean media outlet OSEN, she indicated that the couple's fate is at stake.
"The couple's fate is actually already determined, but many viewers are wishing us to be happy and make it. I am happy to hear those comments," AllKpop quoted the Peanut Butter singer as saying.
The Korean entertainer even talked about how she prepared for the lip-lock scene with EXO member Byun Baek-hyun and stated that she was really comfortable because they belong to the same age group.
"I don't know about Baekhyun, but it was my first kiss scene so I don't think I did that well. Even though there weren't a lot of NGs, I think I made a few mistakes. But I'm relieved to hear that we look good together," she added (via Soompi).
Meanwhile, onscreen Soon-duk revealed that she was worried about EXO fans' reactions and said, "Because Baekhyun oppa is in a popular group, EXO, I was worried that I would receive backlash from fans after the episode... But fortunately, people liked that the scene looked so pure and innocent. Some fans even said, 'We understand because it is our oppa's work.'"
The period drama concluded its latest episode by featuring the 10th Prince and his wife on a run for life while they were being chased by the evil Princes. Since the trailer has already hinted at the death of Park Soo-kyung's daughter, the 20-year-old actress could bid adieu to the show in episode 16.
However, the followers of Moon Lovers will have to wait until October 17 to find out what lies ahead for Eun and his brother in the upcoming episode, which is scheduled to air on SBS at 10 pm KST.