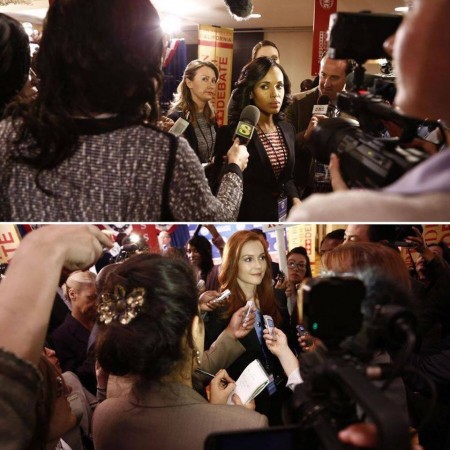 Season 6 of political drama "Scandal" has recast Vanessa Moss, the woman whom Scott Foley's Jake Ballard married in Season 5. The role was earlier portrayed by Joelle Carter, but in Season 6 she will reportedly be replaced by "Glee" alum Jessalyn Gilsing. Carter decided to depart from the Shonda Rhimes show due to conflict in scheduling with her show "Chicago Justice," which will premiere midseason.
Season 6 of "Scandal" will return in 2017. The show was pushed to midseason due to Kerry Washington's pregnancy.
During the recent Television Critics Association's press tour, ABC President Channing Dungey was asked about the upcoming season of the show, and he described it as a "return to form."
Defending the show's drop in viewers, Dungey added: "It was the fifth season this year. Long-running shows, there's always a little bit of ebb and flow. We have read the first script for the new season and it's fantastic. It feels very much like a return to form."
The fifth season averaged around 10.68 million viewers, which was down from the 12.66 million from season 4. Clearing up rumours that Season 6 would be the last for "Scandal," Dungey said they have not had discussions about when the show would wind up.
However, in an earlier interview with journalist Lara Spencer, Rhimes had revealed that she has an end in mind for "Scandal." But she refused to reveal who Washington's Olivia Pope will end up with at the end of the series, saying President Fitz was a fantasy. "[Olivia] She never had to actually be a wife she never actually had to be truly emotionally available. She never actually had to do any of the icky stuff that you have to do when you're in a relationship."
On the other hand, the relationship with Jake is much harder and realistic as he knows her dirty side as well. "For better or worse like I think he sees all of the dirty parts of [Olivia] and doesn't care. And I don't know that she necessarily likes that because then she has to actually commit so maybe that's harder."