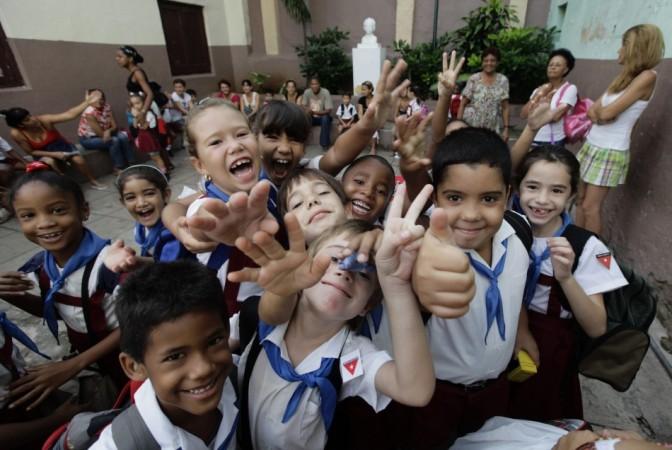 The Supreme Court on Thursday upheld the cabinet's decision in implementing the Right of Children to Free and Compulsory Education (RTE) Act 2009 as it directed all the schools including those owned by private organisations to provide 25 percent of free seats for the kids hailing from socially and economically backward classes.
According to the RTE, all the government, private aided and unaided schools should reserve 25 percent of seats for the students who have been kept from education owing to their financial problems.
As many as 30 petitioners moved the apex court challenging the cabinet's decision on the RTE.
The three-judge apex court bench comprising Chief Justice SH Kapadia and Justice KS Radhakrishnan and Justice Swantanter Kumar said that this legislation would come into effect on Thursday uniformly across the nation. Meanwhile, the schools that undermine this new law will be eligible for government's action.
However, the SC judges have exempted unaided "minority" schools from this new legalisation. In other words, the schools organised by religious groups will not fall under the new RTE Act as the apex court panel perceived that would amount to "infringes on the fundamental freedom" of such schools.
The implementation of the RTE will now make all the children up to 14 years entitled to free and compulsory education.
"This judgment will apply from today. In other words, this will apply from the academic year 2012-13. However, admissions given by the unaided minority schools prior to the pronouncement of this judgment shall not be reopened," the SC bench said.
The SC bench clarified that the implementation of new law would not affect any admissions that were made prior to the judgement. However, it should be complied in future admissions.
With the apex court upholding the decision of the RTE, this would open the tightly shut academic gates for the kids who can't afford the education to sew the future they aspire.
As the new rule hauls all the schools except few unaided minority ones under the scheme, it would provide the socially and financially backward kids to get admitted to a few reputed private-run educational institutions and receive the best-possible training.
However, now the private institutions are up to face a new unpleasant situation, as the apex court mandated the reservation of seats for economically weaker sections. Many private-run organisations may not be very happy with the judgement that subscribes for "free" education for a pupil from its first standard till it reaches the age of 14.