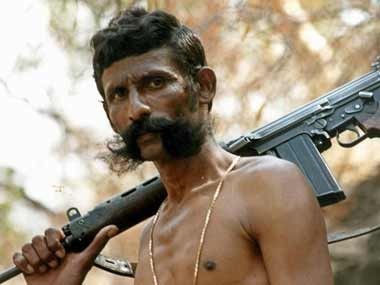 The Supreme Court on Monday will hear on the plea of four aides of late forest brigand Veerappan seeking stay on the execution of their death sentence.
A bench headed by Chief Justice of India Altamas Kabir will hear the plea of Simon, Meesekar Madaiah and Bilavendran and Gnanprakasham, who is Veerapan's elder brother. President Pranab Mukherjee had rejected their mercy petition on 13 February.
The four men, currently lodged in Belgaum Jail, had filed a petition in Supreme Court against their death sentence on Saturday.
Following the rumours of the execution of their sentence on Sunday, senior advocate Colin Gonsalves had approached Kabir on Saturday with a petition seeking urgent hearing on their plea. The CJI did not hear the matter on Saturday and said that there was no proof that the execution will take place on Sunday. He also assured that the matter will be taken up for hearing in due course.
Meanwhile, Veerapan's wife V Muthulakshmi had requested the Karnataka government to intervene in the matter and pass a resolution to stop the execution of all four of Veerapapan's associates.
"Jayalalithaa had passed a resolution in the Tamil Nadu Assembly for those death convicts in Rajiv Gandhi assassination case," Muthulakshmi told NDTV.
"These four people too are Tamils. They are not terrorists but innocent people wrongfully arrested. More than hundred people were acquitted in the case. So a resolution has to be passed for these people as well," she added.
The four aides of Veerapan who died in an encounter with Tamilnadu police force in 2004 were convicted in connection to the 1993 Palar landmine blast in which 22 policemen were killed.
Earlier, the TADA court in Mysore had given life imprisonment to all four in the 1993 Palar landmine blast. The Karnataka government filed a petition against the verdict in Supreme court demanding capital punishment for the accused.
In January 2004, a division bench headed by Justice YK Sabharwal and Justice BN Agrawal ruled in favour of the state government and sentenced the four to death. The accused had submitted a mercy petition to the president the same year.