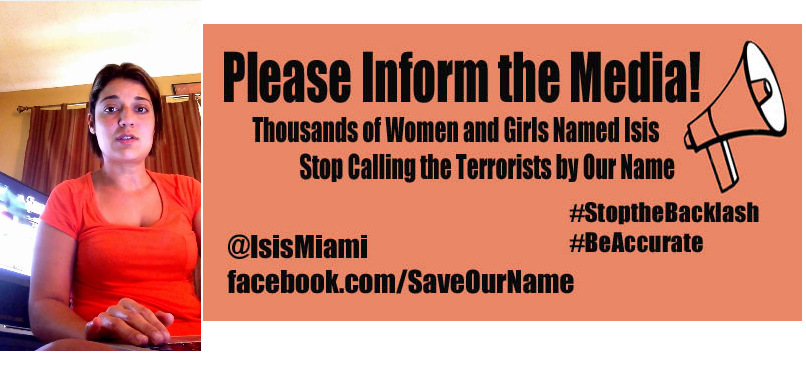 Isis Martinez, a Florida woman fed up of the overwhelming negative association to her name from TV news broadcasts to Congressional debate has taken to "Care2Petitions" and is demanding that the terrorist group Islamic State of Iraq and the Levant be called ISIL or by their Arabic acronym DAESH instead of ISIS via an online petition.
Miami resident Martinez relates her troubles in a YouTube video titled, "Thousands of Women Named Isis, We're Demanding the Media Be Accurate and Responsible. #UseISIL".
A namesake of her mother who was named Isis by her grandfather in Cuba back in 1954 after reading a book about the powerful Egyptian goddess, the 38 year old has not been able to escape the negative reactions and "looks" from people.
She says that in her line of work, she has to introduce herself to multiple clients and the supporters of a non-profit organisation that she runs. The reactions to her name turn out to be awkward sometimes, she admits, but the worst one came on the morning of 23 August, when a nurse in an emergency room asked Martinez if she had a middle name she could go by.
"I do have a middle name but no one, including me considers me "Teresa." My name is Isis. I love my name... Or so, I loved it a lot more before. I will not and cannot change my name," Martinez says.
From little girls named Isis being bullied at school to women named Isis, who are experiencing numerous types of backlash, Martinez says that thousands of women have reached out to her. Our name has become synonymous to "BOMB," she stated in her "Save Our Name" petition.
Majority of the media has been using the acronym ISIS in reference to the terrorist group even though the official English acronyms for this name according to the United Nations, Associated Press and the US State Dept. are IS or ISIL.
It is not just these individuals who are facing the hostile responses, according to a CNBC report, the US mobile wallet platform backed by AT&T, T-Mobile and Verizon, ISIS Mobile Wallet, changed its name to "Softcard" to distance itself from the militant terror group and 25 year old ISIS pharmaceuticals also held discussions on rebranding.
"Regardless of the emotional, mental and even financial impact that this is having on so many of us, accuracy in journalism is not an option, its a responsibility," Martinez reminds everyone.
Martinez is maintaining a Facebook page to promote the 'Save Our Name' campaign, which has over 6,631 signatures so far. Click here to sign the online petition.
Watch Isis Martinez's YouTube appeal here: