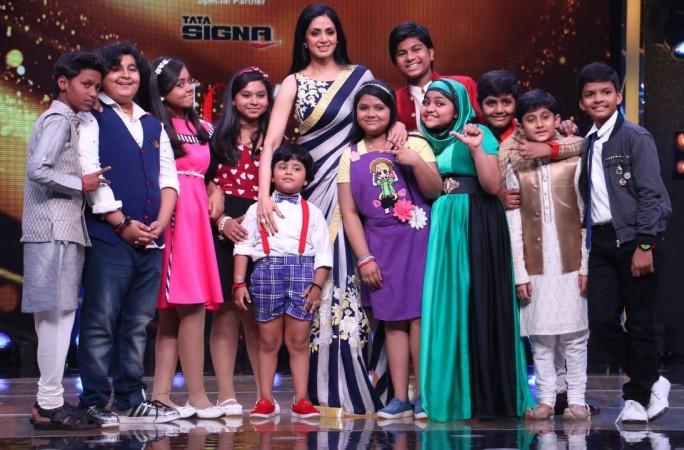 On July 3, eminent film director Shoojit Sircar made an appeal to protect children from falling into the evil trap of reality shows that he said destroys their emotions and purity.
Nothing would have been more apt than Sircar's observation. In an age when a vulgar cocktail of show-offs and competition for status has become the foundation mantra of human existence, it is the children who are falling helpless victims. The artificial dose to make them grow up defying the law of nature is leaving them in shambles and the scars they are bearing as a result have the potential to ruin their entire life, leave alone just the career.
Humble request to authorities to urgently ban all reality shows involving children.it's actually destroying them emotionally & their purity.

— Shoojit Sircar (@ShoojitSircar) July 4, 2017
Before Sircar, Amol Gupte also took similar care for children
Child Rights & You (CRY), headquartered in Mumbai, has also expressed its concern on this sensitive issue. It has said that this is not the first time that such a concern has been expressed. It cited the example of Amol Gupte, director of Stanley ka Dabba, who was known for scheduling the shooting time for the film to suit the child artiste's convenience. "Being a part of the industry it is indeed commendable for people like Mr. Sircar and Mr. Gupte to voice their concerns and be sensitive about the children on the set." CRY said in a release.
Late filmmaker Satyajit Ray was particularly known for his handling of child artistes. He had an excellent ability to bring the best out of the child actors and all of whom who had worked for his film in their childhood still recall how the genius had made it so comfortable for them while shooting for his iconic films.
The legal aspects
The body has also cited the legal aspects related to the matter. It has said that there is a blanket ban for all children in all occupations unless he/she is engaged in helping the family (other than hazardous occupations of course) after school hours and vacations and child artistes in audio-visual entertainment.
Are we doing enough for our children?

The recent amendment to the Child Labour rules mandates the producer of any production house or any commercial event to seek the permission of district magistrate (DM) before involving children.

The producer, according to the rules, would have to submit an undertaking to the DM along with the list of child participants' names, consent of parents or guardian and details of the person responsible and accountable for the safety and security of the child. It is also mandatory for the production house to appoint one responsible person for every five children to ensure the protection, care and best interest of the child.

It also says that the undertaking to the DM shall have to clearly state the provisions for the child actors' education, safety, security and reporting of child; timely nutritional diet; safe, clean shelter and compliance to all laws applicable for the time being in force for the protection of children, including their right to education, care and protection and against sexual offence.

The rules also emphasise on ensuring that the child shall not be subjected to any discontinuity in school education and no child shall be allowed to work consecutively for more than 27 days. The rules allows a child artiste to work up to five hours a day (and for not more than three hours without rest) without actually clarifying the total number of days which a child can work in an academic year. Besides this, the Child Labour Rules do not provide for any differential protective provisions for children under six years, including infants.
The recent amendments to the Child Labour (Prohibition and Regulation) Act 1986 categorises children into two age groups: one below 14 years (termed 'children') and between 15-18 years (termed 'adolescent'). As per the amended Act, child artistes are children who perform or practise any work as a hobby or profession directly involving him as an actor, singer, sportsperson or in such other actively related to the area of entertainment or sports.
While the law recognises the work by child artistss and thereby the need to regulate it, the Child Labour (Prohibition and Regulation) Amendments go on to define certain minimal safeguards.
Besides the legal framework, there are also National Commission for Protection of Child Rights' (NCPCR) guidelines released in 2010-11 (Guidelines to regulate Child Participation in TV Serials, Reality Shows and Advertisements) that attempt to safeguard children.
But are the laws being implemented properly?
Are the laws protecting the children's rights properly is what the CRY has tried to analyse. It has rightly noted that while the children are given protection in places like schools or parks, their rights to leisure and recreation for the development of the faculty have not been given the due significance. Five hours of work in a day (as mentioned in the Act, without actually clarifying the total number of days which a child can work in an academic year) for a child can get extremely exhausting," CRY has pointed out.
The parents are no less at fault
This brings also to question the parents' role. Indian parents have a deeply rooted habit of using their children as trophies before the society to achieve a satisfaction though the reality is that sense of satisfaction is not only hollow but also detrimental for their own kids and the family as a whole. In an 'adult dominated' industry, the trend is to impose a mindset on the children expecting them to handle both success and failure with equal professionalism. But it is more of a fool's wisdom as a child's mind is not prepared to accept mass rejection as mature adults. But these are issues not many feel apt to address.
It, therefore, becomes the joint responsibility of both the status-seeking parents and TRP-seeking production houses to take ample care of the kids' well-being and not leave them with a cursed and crippled future.
"While parents are in charge of their children's welfare, both parents as well as production houses need to be very careful that their guardianship does not treat children as commodities to be profited from," said Komal Ganotra, Director, Policy and Advocacy, CRY, said. "When concerned individuals come together as champions of child rights, it paves the way for finding solutions that can be suggested to Ministry of Labour and ensure that existing rules are adhered to till better provisions are made," she added.