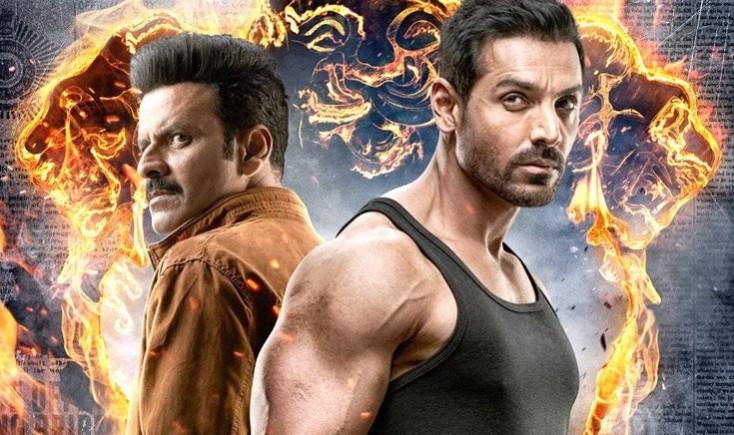 John Abraham's Satyameva Jayate has been receiving a mixed response from the critics. After a special screening on Tuesday, some critics have come up with their feedback on the movie.
Filled with high-octane action, Satyameva Jayate has been liked by some, while others found it too clichéd. Some publications stated that the film has the potential to connect with the masses but several have opined that the story-telling is outdated.
Directed by Milap Zaveri, Satyameva Jayate features John Abraham, Manoj Bajpayee, debutant Aisha Sharma and Amruta Khanvilkar. The story is about a person, who decides to take law into his own hands to abolish corruption, and how another police officer is determined to stop the man.
Critics review of Satyameva Jayate:
The Times of India: 'SMJ' desperately tries very hard to sell the age-old idea of revenge and righteousness. But the big booming treatment is a little too hard to accept and digest. With John in the film, one can expect good action, but it's gruesome and a little too bloody at times. Truth be told, the story is relevant in today's times, but too many cliches in the story and the style of storytelling will make you want to cop out of this one. (2.5/5)
Bollywood Hungama: On the whole, SATYAMEVA JAYATE is a powerful and gripping drama that leaves an impact as it resonates with the problems of the common man. It is sure to work big time in the single screens where the various scenes are bound to induce claps and whistles. This one is for the masses. (4/5)
Hindustan Times: Satyameva Jayate is near-unwatchable. It is a torturous experience; a deeply irresponsible, phony and tone-deaf waste of time, a shameful low for everyone involved. (0.5/5)
News 18: At nearly 150-minute duration, Satyameva Jayate has its heart at the right place, but a convoluted screenplay hampers its chances. (2/5)
NDTV: Satyameva Jayate, truth be told, is a film that has no apparent reason to exist. Not a shred of it is original. At best, it makes a silly spectacle of beating a dead, decomposed horse. At worst, it is a product of a tendentious mind. Satyameva Jayate is nonsensical, with nary a nod to logic. (1/5)