Quality time for some couples mean movie marathons or cross-country marathons or date night, but for Grayson and Tina Haver Currin of Raleigh, North Carolina, Saturday mornings are filled with another fun and novel activity: holding up funny signs next to anti-abortion protestors. As they clarify, "anything you do as a couple, you get closer. We don't do anything separately from each other."
They are so in sync, even have the same middle and last names! "When we got married, I felt that it was unfair to ask Tina to change her last name and me to be the same dude I've always been," Grayson confided to Cosmopolitan. So, Grayson Haver Currin, who used to be Daniel Grayson Currin, now shares Tina's maiden name Haver.
Every Saturday morning in Cary, North Carolina, activists stand outside an abortion clinic holding homemade signs that declare: "Babies are murdered here." Thankfully, this pro-choice couple are adding a sprinkle of humor to diffuse this situation since March. Grayson, a music writer for a local independent newspaper "Indy Week", and Tina, a copywriter and creative strategist, document their Saturday morning activities on their tumblr blog, Saturday Chores, which went viral this week.
Our Saturday Chores Tumblr (http://t.co/CjuwPVPRYn) made it to the top of Tumblr's Trending Blogs Section... pic.twitter.com/Q1RXCUk0JI

— grayson currin (@currincy) July 23, 2014
Explaining how these 'chores' came, Tina said, "When we were driving by the first time, I looked over at Grayson and I could feel him bristle up a bit... and I was like, Don't yell at them! I think that was the reaction we both wanted to have, but we knew that wasn't going to be productive." So rather than flip fingers, holler, argue or set up a competing public address system, Haver Currins combated their ideological opponents by standing in their ranks carrying homemade signs that have literally nothing to do with abortion.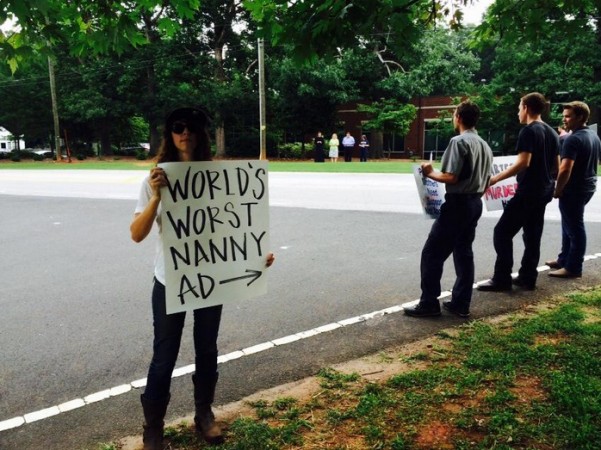 They've been warned by the god-fearing protesters many a times that the couple is actually compelled by 'the Lord' to join them on Saturdays because they secretly wish to be on their team and that they would eventually flip to their side. In the Crystal Pepsi photo, which was posted on 19 July, they're all praying for Tina...or for 'Grayson's Wife.'
"They don't call me by name. I'm property of my husband, of course, and shall be referred to as such," Tina explained.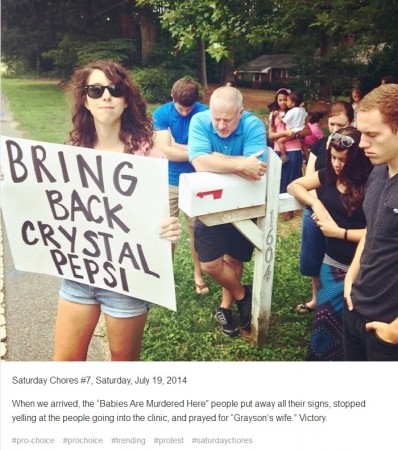 This delightfully liberal couple believes that if they can change the perception of what a protest is supposed to look like—serious, stern, boring, judgmental— then maybe more people could be convinced to take a stand, start a discussion, and get involved.
If you want to know more about the couple and their funny contributions to the pro-choice campaign, tune in to 2SER 107.3 at 8 pm tonight.
We'll be on Sydney's @2ser radio tonight at 8 p.m. to talk about #saturdaychores. You can listen in here: http://t.co/MwtmZbWWqy

— tina haver currin (@tinacurrin) July 30, 2014