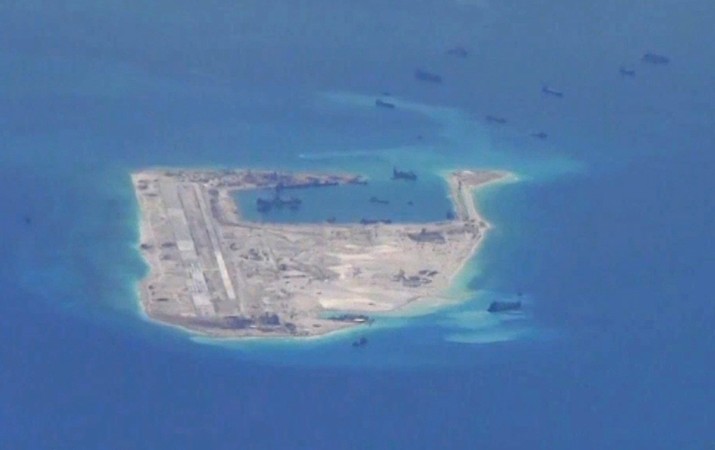 China has been constantly expanding its military presence on the artificial islands in the disputed South China Sea, according to reports. While Beijing has intensified the construction of military outposts on the island, it has planned to add military infrastructure like surveillance systems, the Pentagon reportedly said on Friday.
The United States Defence Department on Friday submitted its report on annual China Military Power to the Congress. Beijing has expanded its reclamation work to over 3,200 acres of land on seven features in the Spratly Islands in the last two years, Reuters cited the report.
China has been recently focusing on the construction of three runways, each of 3,000-metre length, that would accommodate advanced fighter jets, the report said.
"Additional substantial infrastructure, including communications and surveillance systems, is expected to be built on these features in the coming year. China will be able to use its reclaimed features as persistent civil-military bases to enhance its presence in the South China Sea significantly," the report said.
Meanwhile, satellite images of the disputed South China Sea showed Beijing has invested in the construction of three large military outposts and each of those would be connected to the runways, CNN reported. China has also dug deep channels for better access to the outposts. It has also build artificial harbours, dredged natural harbours and berthing areas for larger ships.
"China continues to invest in military programmes and weapons designed to improve power projection, anti-access area denial and operations in emerging domains such as cyberspace, space and the electromagnetic spectrum," CNN quoted deputy assistant secretary of defence for East Asia Abraham Denmark as saying.
"China's military modernisation programme entered a new phase in 2015. China's leaders seem committed to sustaining defence spending growth for the foreseeable future," Denmark said. Reuters quoted Denmark as saying China claimed it invested $144 billion in defence last year, hwen they were actually $180 billion.
China has been claiming sovereignty rights in the entire South China Sea. Some other countries like Brunei, Malaysia, the Philippines, Taiwan and Vietnam have also been staking claim to parts of it.