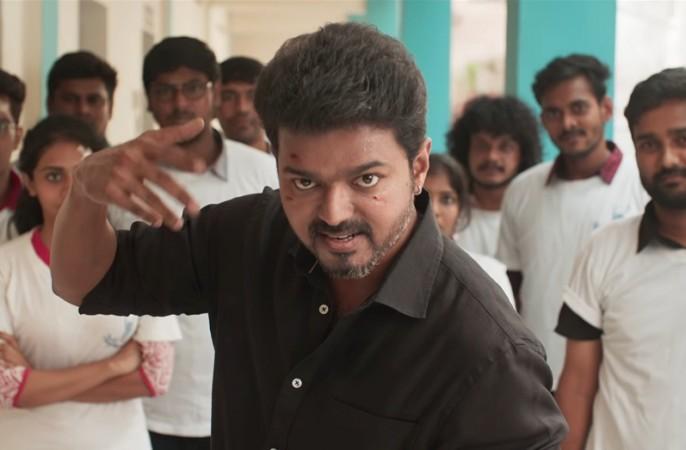 The teaser of Sarkar has sent the fans of Vijay into a tizzy. Thalapathy's swag and powerful one-liners backed with action sequences have won instant appreciation from the viewers. Indeed, the clip has crossed 10-million mark in less than 12 hours which clearly tell the craze around the AR Murugadoss-directorial film.
The 1.32 minute clip crossed one million in 10 minutes, two million in 20 minutes and three million in 35 minutes. It garnered four, five and six million in 55, 75 and 110 minutes, respectively. So far, it has got 11 million hits with 1 million likes and 1.14 lakh dislikes.
What is the teaser all about?
The clip opens with Varalaxmi Sarathkumar narrating the entry of Vijay to India. She tells that he is a 'corporate monster' who has destroyed all his competitors. Media turns curious to know about his arrival at Chennai and he tells that he is in the country to cast his vote.
Thalapathy is shocked when he realises that his vote has been cast by someone else. What follows next is his battle against the politicians. The teaser presents Vijay in stylish avatars and there are shots from foreign countries to showcase his lifestyle.
The clip is packed with powerful dialogues and action which add weight to the teaser.
Celebs Go Ga Over the Teaser
Not just fans, celebs are in awe of the teaser from AR Murugadoss' film, which has Keerthy Suresh in the female lead, while Varalaxmi Sarathkumar has played an important role. Here, we bring you their comments:
Editor Ruben: #Sarkar - Thalapathy Mass overloaded Kudos to @ARMurugadoss sir & team! @arrahman sir @sreekar_prasad sir @KeerthyOfficial @varusarath @iYogiBabu @shobimaster @Lyricist_Vivek ❤️ I'm waiting
Neerajaa Kona: Vijay sir loveeeeee it ❤️ #Sarkar
Vijayalakshmi A: This style monster has already formed the #sarkar @actorvijay
Can't wait for Diwali to get here..! FDFS
mind blown @ARMurugadoss.
Dharan kumar: #Sarkar teaser is mind blowing!! Vera level mass treat for the audience... Can't wait to watch !! #thalapathy I'm waiting
J Anbazhagan: An electrifying teaser from #Sarkar team, actor Vijay looks stylish & sensational. Good to see RadhaRavi, Pazha Karuppiah, @varusarath in a lead role. All the very best to @sunpictures.
Sibi (Sathya)raj: Records are meant to be broken and here's the man who's gonna do it in style! #Sarkar
Hema Rukmani: Uber cool, classy & mass
VJ Nivedhitha: Get ready folks.... Idhu dhaan namma sarkar..... omg omg omg...cant put my excitement in words....Iam waiting ❤..... #thalapathy rocks.... #Sarkar #SARKARTeaserDay #goosebumps
Sibi (Sathya)raj: Records are meant to be broken and here's the man who's gonna do it in style! #Sarkar
Bakkiyaraj kannan: PhhaaaThalapathy Theeeeee ya irrukaru maasss Teaser @actorvijay sir @ARMurugadoss sir @arrahman sir @KeerthyOfficial @iYogiBabu na @sunpictures
Ajay Gnanamuthu: Idhu dhaan namma #Sarkar Rockinggggggggg @ARMurugadoss sir Thalapathy @actorvijay sirs most stylish Avatar!! #SarkarTeaser
Thiru: #Sarkar Thalapathi & ARM
Varu Sarathkumar: Vandutayyaaaaaa vandutayaaaaaannnn #sarkar #thalapathy... woohoooo it's here.. trailer that we've all been waiting for..
Keerthy Suresh: Ithu than namma #Sarkar !!