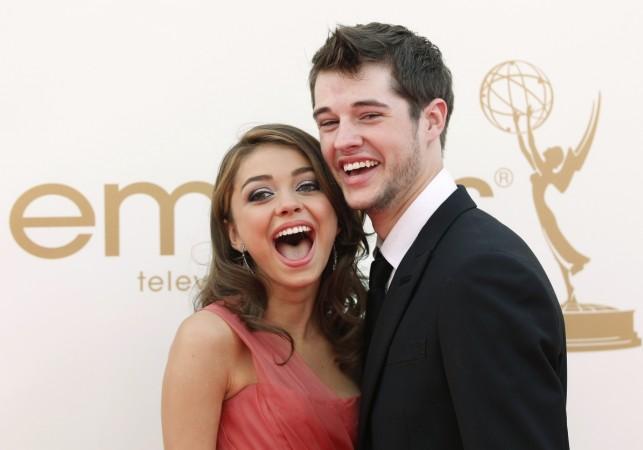 Sarah Hyland, who portrays Haley Dunphy on the popular American sitcom "Modern Family", has made her Twitter followers panic over her relationship with actress Laura Samuels through a recent tweet.
"Had an amazing time at the #artofelysium charity dinner with my life partner laurasamuels8," read the post on Hyland's official Twitter page.
The tweet, which appeared last month on the social media platform, raised many eyebrows. Her followers got confused with the word 'life partner' and they were eager to know about the relationship between Hyland and Samuels.
Some keen tweets ranged from "Life partner?" to "did you just acknowledge you're a lesbian now," started doing the rounds and a few of her followers expressed their wrath over the news.
"I didn't know she was a lesbo. Wow ..." tweeted a person. Whereas another follower wrote, "If so, it's a shame that some no name actor ruined her."
Hyland's tweet on Samuels came at a time when the entertainment world was curious waiting to hear some breaking news about the former's love life as she had recently called off her five-year-old relationship with actor Matthew Prokop.
Hyland and Prokop were once the power couple of Hollywood and they were in a relationship since 2008. When they announced the news about their breakup last year, the fans were still in hopes of their patch up.
But the "Modern Family" star's move to obtain a restraining order against her ex-boyfriend turned the table against Prokop. As per the court document filed by the actress in September, her ex-beau had physically and verbally abused her during the last four years of their relationship.
Initially, Hyland obtained a temporary restraining order against Prokop, which was upgraded to a permanent one in less than a month's time. According to the court order, the 24-year-old actor must stay 100 yards away from Hyland and her dog Barkley Bixby.
Additionally, he cannot threaten, attack or harm her pet in any way and must not possess ammunition or a gun. He has also been asked to stay away from her workplace.
However, Prokop seems to be missing the presence of his ex-girl friend as his profile on Twitter page reads, "May be love was meant to save us from ourselves."
But Hyland is enjoying every moment in her life and is currently focussing on her work. "'I'm great. Working on 'Modern Family' and spreading awareness for adoption and cleaning up after your pets," Mail Online quoted the actress.