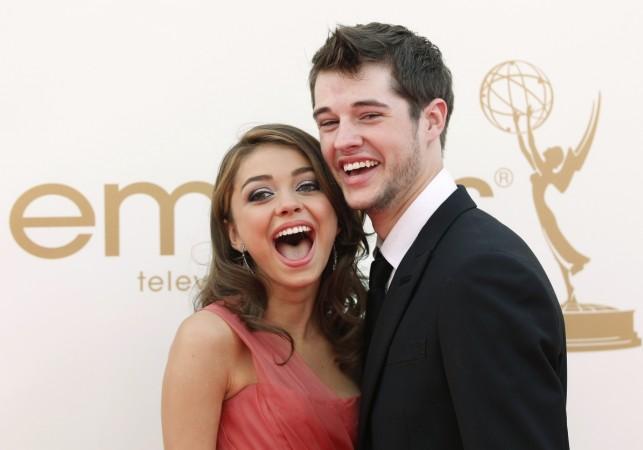 Sarah Hyland made her first public appearance on Friday after filing a restraining order against her former boyfriend Matt Prokop for allegedly abusing her. She looked pretty and fresh at the Teen Vogue party held on 26 September.
The 23-year-old actress wore an orange and blue geometric patterned dress with a cut-out at mid-riff. She coupled her look with a pair of red heels, and shimmery blue shadow on her eyelids. She also tied her hair in an interesting up do and carried a box clutch.
Hyland dated Prokop for five years before calling it quits. She filed a restraining order against him after he allegedly choked and pushed her during an argument in connection with the actress' dress.
"His grip was so tight that I could not breathe or speak. I was scared and in fear for my life," Sarah reportedly said in restraining order document obtained by TMZ. She added that she had throat injuries and had a sore throat post the incident.
Hyland has also mentioned in the document that she asked help from "Modern Family" co-star Julie Bowen and others, to come to her house and assist her in ending the relationship. Prokop reportedly threated Hyland to put the house on fire, according to reports.
It has also been said that Hyland is not looking for a relationship right now and is focusing on her work. She was terrified with the whole situation with Prokop and is trying to move on from the past, according to reports.
"She just wants to leave this situation behind her." She's a strong girl, a source told Us Weekly, adding, "I have no doubt she will bounce back from this. She's been through a lot in her life, but she's still an amazing and strong person."
The actress is understood to be leaning on her show "Modern Family's" star cast. She had earlier shared a photo of the complete cast of the show before the premiere of season 6 with the caption: "Tonight's the night!!! Season 6 premiere of #modernfamily on abc 9/8c!!!! I can't believe I've been working with this show for almost 6 years! I love these people with all of my heart and will never forget this blessing of a job. Hope you all enjoy the new season!!"
"Modern Family" season 6 episode 2 will air on Wednesday on ABC.