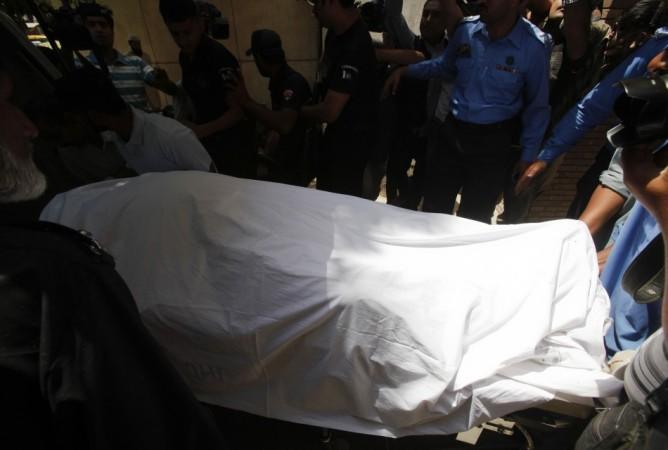 Sarabjit Singh, the Indian prisoner who succumbed to his injuries following an attack by inmates in a Pakistani jail, was cremated with full state honours on Friday.
The funeral ceremony that was held in Sarabjit's village, Bhikhiwind, near Amritsar was attended by several politicians including Congress Vice President Rahul Gandhi, Punjab Chief Minister Parkash Singh Badal, External Affairs minister Preneet Kaur and Deputy Chief Minister Sukhbir Singh Badal.
An official spokesperson said that a three-day mourning period has been declared in the state and flags will fly at half mast on all government buildings. He added that no official ceremonial functions will be held in state during the period to condole Sarabjit's death.
The state government has announced a compensation of ₹1 crore for Sarabjit's family, while the central government announced an ex-gratia payment of ₹25 lakh. In addition the state government has also declared to give government posts for Sarabjit's daughters.
Sarabjit's home village has been in a state of mourning ever since the Indian government broke the news of his death on Thursday. Villagers held protests raising anti-Pakistan slogans.
Sarabjit's sister, Dalbir Kaur, performed the last rites at the funeral.
Dalbir Kaur, who had fought relentlessly for her brother's release from Lahore's Kot Lakhpat jail for the past 23 years, urged the Indian government to cut off all ties with Pakistan. "India must give a suitable response and snap all entertainment, sporting and trade ties. There should be no dialogue with Pakistan," she said.
She also criticised the Indian government for failure to take immediate action in the issue. "The Indian government acted late. Something should have been done earlier," she told CNN-IBN.
After his body was flown in to India, a second autopsy was done at an Amritsar hospital before handing it over to the family. The second autopsy was carried out as per a request from the family who wanted to know the actual cause of Sarabjit's death. The post -mortem report will be released around 4.30pm on Friday.
"We have noted the injuries. There are injuries on the head and other body parts. We'll look at the report of the post-mortem conducted in Pakistan," said Dr Gurmatjeet at the Amritsar hospital.
On Thursday, the doctors treating Sarabjit declared him dead citing cardiac arrest as the cause. His autopsy was conducted in Lahore's Jinnah Hospital but the details have not been revealed yet.
Sarabjit was brutally attacked on 26 April by six other jail inmates. He was given the death penalty for his alleged involvement in the 1990 bomb attacks in Punjab province that left 14 people dead. He had served 22 years in Pakistani prisons.