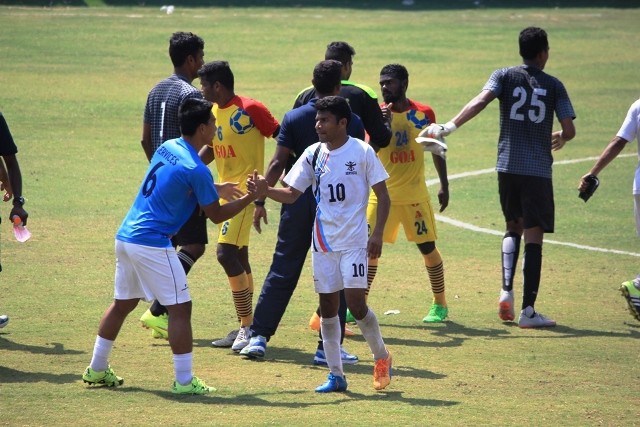 Defending Santosh Trophy champions Services have once again entered the final of the prestigious Indian football tournament. They take on Maharashtra in the final of the 70th edition of Santosh Trophy, Sunday.
Goa, Maharashtra, Services and Tamil Nadu were the four teams, who made their place in the last four of the Santosh Trophy 2016. They indulged in their respective semi finals Friday in Nagpur, which w ere keenly-contested. While Maharashtra beat Tamil Nadu 1-0, Services got past Goa also with a 1-0 scoreline.
Maharashtra sailed into the last two following an own goal by Tamil Nadu's Prem Kumar in the 58th minute, and in the process, also got the chance to feature in a Santosh Trophy final after 10 years.
"All the credit [goes] to our boys for the victory [in the semi finals]," Maharashtra coach Augusto D'Silva told The Times of India after the match. "We have dominated the game [against Tamil Nadu] but missed many chances and that is what we will learn from today's game."
The match between Goa and Services, meanwhile, went the distance. The game was locked goalless following 90 minutes of action and it was only in the 15th minute of extra time that a defensive howler from Goa gave Services the one-goal cushion. Mohammed Ali scored an own goal and the result was 1-0 until the end of the 120 minutes of play.
The win for the Services side is all the more special since Goa featured a lot of national team players like Francis Fernandes, Peter Carvalho, Rowilson Rodrigues and Laxmikant Kattimani. One man, however stole the attention amongst all and that was Services defender Amit Tudu.
The tenacity and determination of the 18-year-old, who was a part of the list of probables for the Indian national team ahead of the SAFF Cup 2015, stole the attention of one and all present during the match.
"Hard work really paid off," Services coach SP Shaji told TOI after his side's win. "[Amit] Tudu told us he will give everything in the semifinal. He proved. And after wasting a couple of opportunities, Tudu did find a pressurized goal."
One of the key features of the Santosh Trophy has been delivering new players year after year, who have gone on to make it big in the I-League, the Indian Super League as well as the national team. This year too, it will be no different.
Santosh Trophy 2016 final schedule:
| | | | | | | |
| --- | --- | --- | --- | --- | --- | --- |
| Date | Team A | | Team B | Time | Venue | TV listing |
| March 13, 2016 | Maharashtra | v | Services | 3 p.m. IST | SEC Railway Stadium, Nagpur | DD Sports |