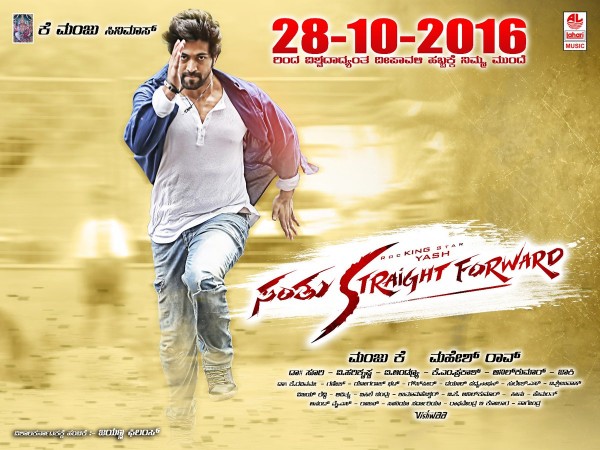 Yash and Radhika Pandit-starrer Santhu Straight Forward got a wonderful opening at the Karnataka box office on Friday, October 28. The movie made a good collection despite facing competition from Kiccha Sudeep and Upendra's Mukunda Murari.
Producer K Manju is thrilled with the viewers' response. Sharing his happiness with International Business Times, India, he said, "People have grandly welcomed Santhu Straight Forward and the response is fantastic for the film in all the centres."
Santhu Straight Forward was released in over 240 screens in Karnataka. The movie grossed over Rs 3 crore on the first day. "The movie would have collected more if there was no competition from other films," K Manju said.
Mukunda Murari, Jaguar, Idolle Ramayana, Dana Kayonu and Nagarahaavu are the other big films, which are currently being played in theatres.
However, the producer is upset with the negative campaign carried out against Santhu Straight Forward. He adds, "A few TV channels are trying to present the movie in a bad way. They are targeting Yash for his recent views on the Cauvery issue."
Clarifying on the reports of the film being a remake, the producer says, "We have made a simple movie and request people to support the film instead of giving it negative publicity. People who do not like to see the growth of Yash in the industry are using this opportunity to target the film. Nonetheless, I am happy because now viewers have liked the movie and are supporting us."
Santhu Straight Forward is written and directed by Mahesh Rao. Industry experts predict that the the film will better its collections in the next few days due to the Deepavali and Karnataka Rajyotsava holidays.