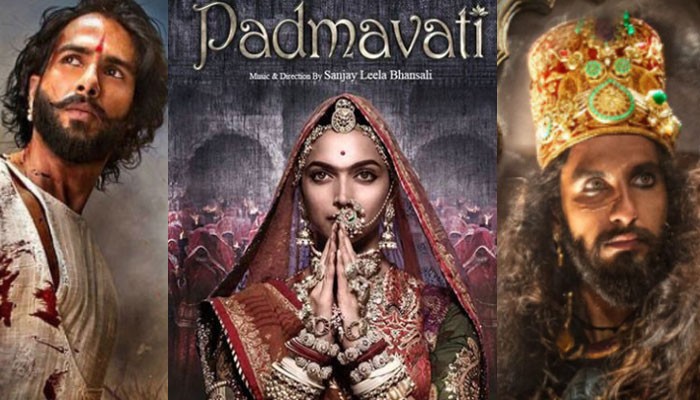 After Sanjay Leela Bhansali's Padmavati was rechristened Padmavat, the Rajput Karni Sena now demands a change in the names of the characters to be shown in the film.
The Karni Sena has been protesting against the release of the magnum opus, alleging that it portrays the character of Rani Padmini in poor light. Despite demands of a ban on Padmavati, the censor board finally cleared it with a few changes, including a change in the title to Padmavat.
Also read: Alia Bhatt gets close to ex-boyfriend at friend's wedding
However, members of the Rajput outfit are not satisfied with just change in the title of the film, and want the characters' names to be altered too.
"We have a very clear stand since day one that we want this film to be banned. The committee made by the CBFC watched the movie and said the movie was vulgar and the facts were distorted. The film is made just to earn money. Along with the name of the movie, the characters names should also be changed," Karni Sena member Mahipal Singh Makrana told ANI.
He went on threaten that if the movie was not banned, the Central government would be responsible for its consequences.
"Till now, we have always protested against the movie keeping law and order in mind and without violating it. I appeal to Prime Minister Narendra Modi to take cognisance in the matter, otherwise the Central government and the state government will be responsible for the dire consequences," Makrana said.
While the censor board has already given U/A certificate to Padmavat, many reports claimed on Monday, January 8, that the movie's release date is out. Padmavat will reportedly release on January 25, and is all set to face a box office clash with Akshay Kumar's Pad Man.
Starring Deepika Padukone, Ranveer Singh and Shahid Kapoor, Padmavat is a much-hyped movie, and Pad Man is also one of the most-awaited films this year. In such a scenario, this box office clash is being expected to be a huge one.
It is really hard to predict which of the two films will have an upper hand at the commercial circuits. Nonetheless, with protests and threats against the release of Padmavat still coming in, maybe the trouble for Bhansali is not yet over.