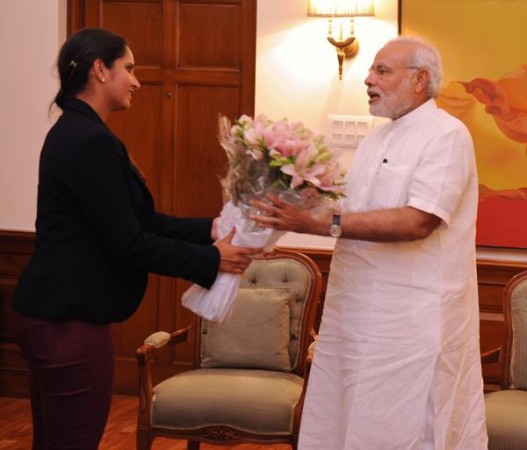 Indian tennis star Sania Mirza, fresh from her victory at the US Open Mixed Double's event, seemed to have had a change of heart over representing the country at the Asian Games post her meeting with Prime Minister Narendra Modi on Friday.
Mirza has decided to play at the Asian Games that will be held in Incheon from 19 September, going back on her previous decision to stay away to focus on the professional circuit. In the bargain, she will miss out on adding points to improve her ranking at the Wuhan WTA event, which has 900 points on offer.
Mirza, along with other top Indian tennis players such as Leander Paes and Rohan Bopanna had earlier announced that they would skip the Asian Games to focus on their international rankings.
However, her meeting with Modi following her US Open victory, seems to have influenced her decision, which is set to benefit the Indian contingent at the Games. Modi's strong sense of national pride is well-known and is often said to be infectious.
Mirza, however, stopped short of giving any concrete reason for changing her decision.
"I was feeling weird, I was not feeling happy with my decision, so I thought I will play. I know I am sacrificing 900 points, but sometimes you have to make a decision," she told PTI on Friday.
Modi had wished Mirza on Twitter following her win, saying, "Congratulations to Sania Mirza for the victory in the US Open Mixed Doubles Finals. We are very proud of the achievement".
For Mirza, choosing to represent the nation could also have a deeper significance, given that her 'patriotism' has time and again been questioned by radical nationalist factions ever since her marriage to Pakistani cricketer Shoaib Malik.
Only two months ago, Mirza was reduced to tears after a ridiculous comment by a Telangana minister, ironically from Modi's own party, who had called the tennis star the "daughter-in-law of Pakistan". Telangana BJP leader K Laxman had questioned Mirza's nomination as the brand ambassador of the newly-formed state.
Mirza had at the time retorted saying, "I am an Indian and will remain an Indian until the end of my life."
Her decision to play in the Asian Games could be a way of cementing that fact, and also raises India's hopes of bringing home more medals.
The All India Tennis Association (AITA) has allowed players to skip the Games in view of upcoming tournaments.
The otherwise patriotic Paes had cited the need to earn professional points to crank up his ranking as the main reason for skipping the Asian Games.
"This is my bread and butter and at the end of the day my ranking has dropped to 35 in the world. Hence I have to get some job security for next year. I have to play a long fall season, through Kuala Lumpur as well as Tokyo, these two tournaments are the exact dates in the nine-day span of the events in Asian Games," Paes had said.
India's top singles player Somdev Devvarman has also decided not to defend the singles and men's doubles gold medals he had won four years ago at the Games in China, for similar reasons.