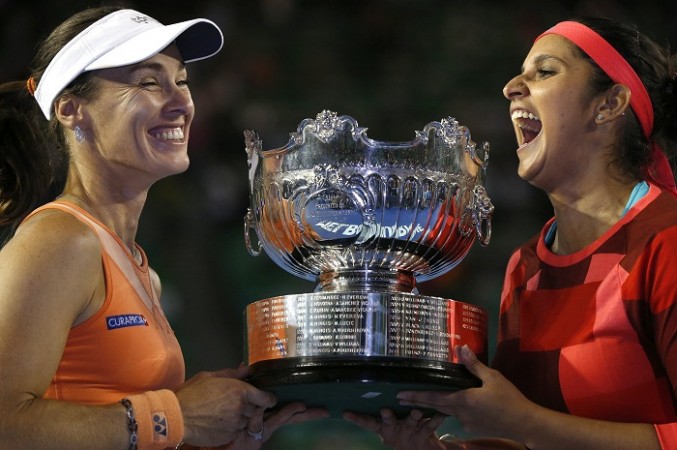 Sania Mirza, after deciding to form a partnership with Martina Hingis in the WTA circuit last year, has been winning titles after titles alongside the Swiss queen. Sania, who recently won the 2016 Australian Open doubles to go with the Wimbledon and US Open titles from last year, now wants to win more.
The world number one pair are a treat to watch on the court with their brilliant chemistry. Even when things get a little tough, they handle things with utter ease, passing smiles to one another while making errors as well. Their chemistry on the court is second to none and one feels that they have been playing in the circuit for a number of years.
Apart from their chemistry, they are an ideal combination. In most of the matches, Sania, who loves to hit from the baseline, plays her natural aggressive game and Hingis, on the other hand, uses her quick reflexes at the net and her soft hands to precision. Hingis with her clamness and experience was exactly what Sania needed in doubles competition.
Such a combination has helped the Indo-Swiss pair dominate the women's circuit right from the start. Before winning their first Grand Slam -- Wimbledon -- they had already clinched titles such as Indian Wells, Miami Open and the Family Circle Cup.
Overall, they have now won 12 titles, which includes three Grand Slams in a row. Sania and Hingis have won an amazing 36 matches on the trot and are looking in prime form to continue their winning ways in the upcoming competitions.
"It's an unreal feeling. We haven't lost a match in a long time but also to win three Grand Slams in a row... it's what really dreams are made of and I am really excited. It was a perfect way to start the year. We feel really happy. Three slams in a row — who would have thought!," IANS quoted Sania as saying.
The Indian star, who also won the Brisbane and Sydney International in 2016 partnering Hingis, is now looking forward to representing India in the Fed Cup against Thailand.
"I am taking a couple of days off before going to the Fed Cup in Thailand."