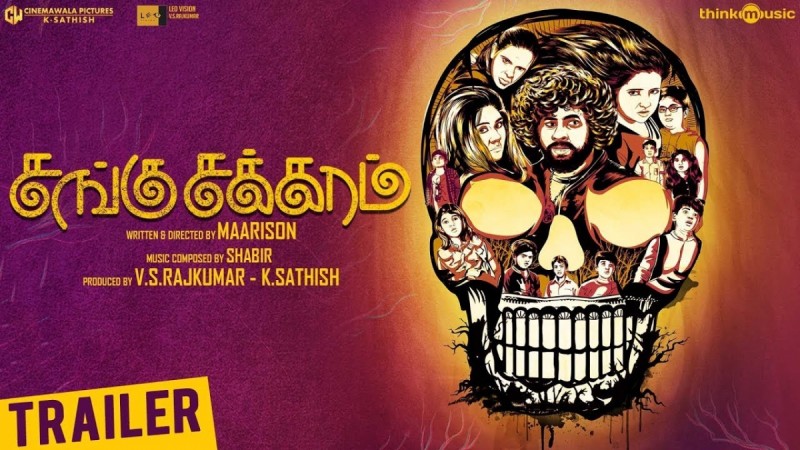 Sangu Chakkaram is a fantasy horror film, written and directed by Maarison. Dhilip Subbarayan plays the lead the flick, which has Shabir's music, Ravi Kannan's cinematography and Vijay Velkutty's editing.
Geetha, N Raja, Pradeep, Rocky, Jeremy Roske, Nishesh, Monicka, Swaksha and others are in the cast. Sangu Chakkaram revolves around eight children. AngayarKanni (Geetha) and Malar (Baby Monicka) are the ghosts in the film. A bunch of kids gets trapped in a haunted palace, while a realtor plans to sell the palace. What follows next is the interesting part of the story.
Going by the people's response online, it is a children film with lots of comedy. Breaking away from the standard template in horror-comedy genre, the film attempts to entertain the viewers sans glamour and double-meaning dialogues.
Also, the film does not drag around to narrate the past of the ghosts, which makes it a light-hearted film. Although it is a predictable entertainer, Sangu Chakkaram has enough substance to engage the viewers to the end, say those who have already watched Sangu Chakkaram.
However, the adult audience, who are regular viewers of the films in this genre, might not like the comedy to some extent as the fun elements are aimed at children. Here, we bring to you the audience's response to the film:
Rajasekar: #SanguChakkaram - horror comedy without any flashback for ghosts. Scenes where kids interrogating ghosts are the highlights. Producers made the film to attract kids audiences.
Kaushik LM: #SanguChakkaram 1st half - Set in a haunted house, with a group of kids and adults. Has the usual horror thrills! The VFX work & makeup are impressive. Cute Baby Monica is a prodigy. @dhilipaction provides some comedy.
#SanguChakkaram 2nd half
- the portions showing kids questioning the ghosts is the highlight
- unexpectedly, no flashback for the ghosts
- the funny end credits with the #Superstar #Rajinikanth politics touch is a good finish to the film
A rare film for kids, they'll like it!
Gaurav narayanan: #sanguchakkaram enjoyable kids film. 2 hrs we sud become a kid. Best wishes to my master @dhilipaction for a superb actor avatar, producer Sathish bro, director and the entire team.
VB: #Sanguchakkaram - Not an usual horror film with a flashback sequence for ghosts. A movie specially made for the kids.
Watched #SanguChakkaram Last night. Has everything needed for its target audience - Kids. Congrats machan @sathishoffl . Your hardwork hasnt gone waste da!! very happy for your team!!
SanguChakkaram
I_AM_PARAM:` #balloon - 1st half - IT, Conjuring, Annabelle, Insidious and Rajni, Ajith & Vijay reference. 2nd half - Quite good scope for performance by the main casts. Climax Kaththi Kathiresan and Vedhalam Ganesh reference semme. "Inimeh caste issue start pannuna Charlie vaaruvaan"