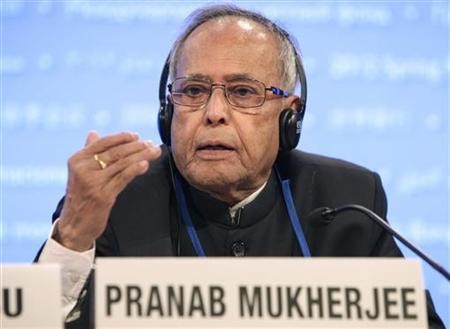 With the presidential election round the corner, NCP rebel leader and opposition Presidential Candidate PA Sangma on Monday sought the cancellation of UPA candidate Pranab Mukherjee's nomination for the top post on the grounds of "office of benefit."
Following objections raised by Sangam for Pranab's candidature, the scrutiny of the former finance minister's nomination papers, which was supposed to happen on Monday, was postponed for Tuesday. Meanwhile, the Returning Officer at the Rajya Sabha Secretariat has also sought Pranab's explanation over the issue.
Sangma alleged that Pranab is holding the Chairman position at Indian Statistical Institute (ISI), which amounts to the office of benefit.
The Article 102 (1)(A) of the Indian constitution restricts a member of the Indian Parliament from holding office that would give its occupant the opportunity to gain a financial advantage.
Citing the rules under this Article of the Indian constitution, Sangma has urged the authorities to bar Pranab from contesting the President poll which begins July 19.
Should Pranab's nomination for the President poll be rejected, it would certainly pave the way for Sangma's presidential aspirations.
The Indian Statistical Institute said that Pranab resigned from his chairman post on June 20.
Sangma was the dark horse of this Presidential poll. His candidature was first received with unconditional support from Tamil Nadu CM Jayalalitha and Odisha CM Naveen Patnaik
Later, even BJP supported Sangma's nomination with scientist APJ Abdul Kalam announced that he won't contest for the President post.
Earlier, Sangma played the tribal card in a bid to garner support for his candidature. He said that he hails from the northeast and is thus a tribal candidate
Sangma, who is serious about running for the Rashtrapati Bhavansaid, said that he would never back out. He has been holding meetings and seeking support from various political party leaders, including the Trianmool Congress chief Mamata Banerjee.