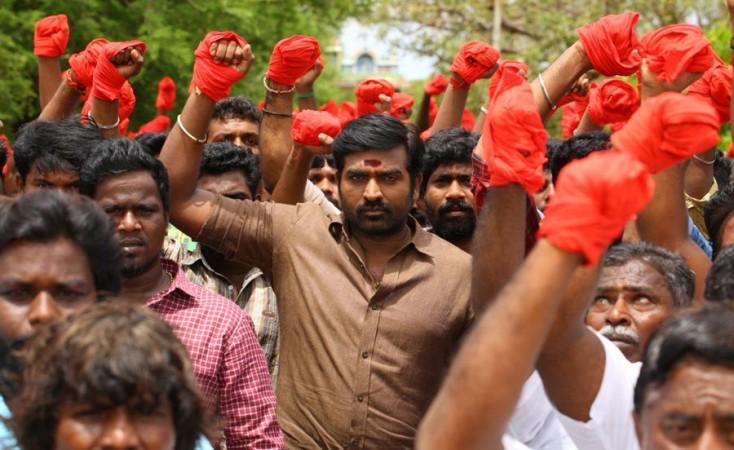 After Seethakaathi and Sindhubaadh turned out to be duds at the box office, Vijay Sethupathi is back with his new film, Sangathamizhan. He has teamed up with Vijaychandar of Simbu's Vaalu fame for this mass entertainer.
The movie has Raashi Khanna and Nivetha Pethuraj playing the female leads. Ananya, Soori, Mime Gopi, Sriman, Ramya Subramanian and others are in the supporting roles. Vivek-Mervin is scoring the music, R Velraj is handling the cinematography, while Praveen KL is the editor of Sangathamizhan.
Story:
Vijay will be seen in the roles of a super cop and a villager in the movie set in the rural backdrop and centered around social issues which are relevant today. The movie is about a farmer taking on a powerful politician. How he becomes the messiah of his men by fighting against the set-up of a plant forms the crux of the Sangathamizhan story.
Hype:
The movie has generated a lot of hype with it trailer and teaser. With Vijay Sethupathi returning to the mass role, people, obviously, have pinned high hopes on the movie. Will it live up to the expectations? Find it out in the viewers' words below:
Kaushik LM: #SangaThamizhan - Fans of #MakkalSelvan #VijaySethupathi would like him in the film. It's an effortless #masshero outing for him. He safely has fun here without trying any of his usual experiments and risks.
@vijayfilmaker shows again that he is a hero's director.
#SangaThamizhan - Attractive Tamil ponnu #NivethaPethuraj comes in the 2nd half and she looks gorgeous as the homely village belle.
But it's a very abrupt ending for her character ; the #SandakariNeethan song is also not present in the film!
#SangaThamizhan - @vijayfilmaker proves that he is a #STR #Simbu loyalist. He keeps an enjoyable little Thotti Jeya tribute, with @sooriofficial; STR fans alert
In general, it's a subtle #Soori that we see. #Vijaysethupathi has fun giving buildup to Soori and pulling his leg
#SangaThamizhan 2nd half - Works better than the 1st. The village portions are fairly engaging
#VijaySethupathi delivers the tried & tested mass moments convincingly with his swag.
@vijayfilmaker sticks to his strengths and dishes out a watchable commercial entertainer. Timepass
#SangaThamizhan interval: Regular mass template commercial formula padam, with a promising interval bang.
#Makkalselvan #Vijaysethupathi looks gethu & colorful
Bright & beautiful @RaashiKhanna
Peppy #Kamala & melodious #Azhagu - nice songs
Also has a public social issue angle
Rajasekar: #SangaThamizhan first half - Follows the regular mass masala entertainer template. @VijaySethuOffl 's dialogue delivery is a plus in this tried and tested zone. @RaashiKhanna's portion is quite enjoyable.
#SangaThamizhan is a typical commercial entertainer with an underlying social angle.
@VijaySethuOffl effortlessly carries his role, his combination with the subtle 'hero'
@sooriofficial looks fresh. Watchable template mass masala.
#SangaThamizhan - the film reminds us #Kaththi, #Mersal, and a few other mass entertainers. Both the heroines
@RaashiKhanna and #NivethaPethuraj have done a good job for a hero glorifying mass entertainer.
Christopher Kanagaraj: #SangaThamizhan - Vijay Sethupathi's next level attempt to a mass hero, works to an extent. RaashiKhanna & Nivetha both did gud. Weak Villains. Decent BGM & songs. Film follows regular old age commercial template with a school level twist. Nothing new, but not so bore. Above Avg!
Ramesh Bala: #SangaThamizhan 1st Half : A Fun Mass Masala Entertainer..
@VijaySethuOffl, @RaashiKhanna and @sooriofficial make it worth a watch so far..