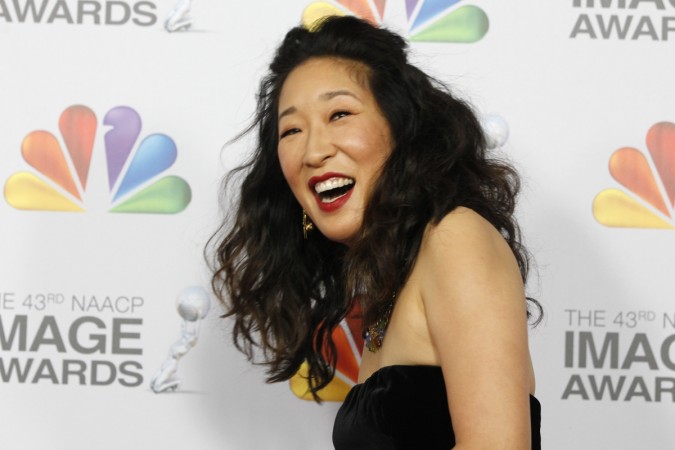 Season 12 finale of "Grey's Anatomy" saw Amelia and Owen taking the next step in their relationship by getting married. Many expected Sandra Oh's character Cristina to make an appearance in the finale, as Owen was her ex husband. Although that did not work out, Oh recently took to Twitter to share her thoughts on the Owen-Amelia wedding.
"And wait," she jokingly tweeted on Friday, "my TV husband has a new TV wife?? Xqueez me? I don't think so.
"Ha," she added. "Owen, what r u thinking??"
Meredith, Cristina's best friend, was not enthusiastic when Owen and Amelia decided to get married. But it looks like the new couple is already ready to welcome a baby into their fold.
"I think she wants children," Caterina Scorsone, who plays Amelia, toldTVLine. "She remembers her pre-tragedy childhood with Derek and their sisters fondly, and I think she would want to recreate that kind of boisterousness in the house. That's one of the reasons she wanted to move in with Meredith and Maggie — she likes a boisterous household!"
But it's not going to be an easy process as Amelia, who lost a baby before, will have to conquer her fears before trying for a baby. "I don't know. And I'm sure Owen's got his share of trauma that will make things difficult, too. But I think the intention is that they want to have children," Scorsone said.
"Grey's Anatomy" will be back on ABC this fall. In addition to Ellen Pompeo, Kevin McKidd, Justin Chambers, Chandra Wilson and James Pickens, Jr. have signed new contracts with the ABC medical drama. Sara Ramirez appears to be the only actress who won't be returning for the upcoming season.
Season 12 ended with Ramirez's character Callie arriving at a new custody arrangement with Arizona, enabling her to move to the East Coast to be with her girlfriend, Penny.